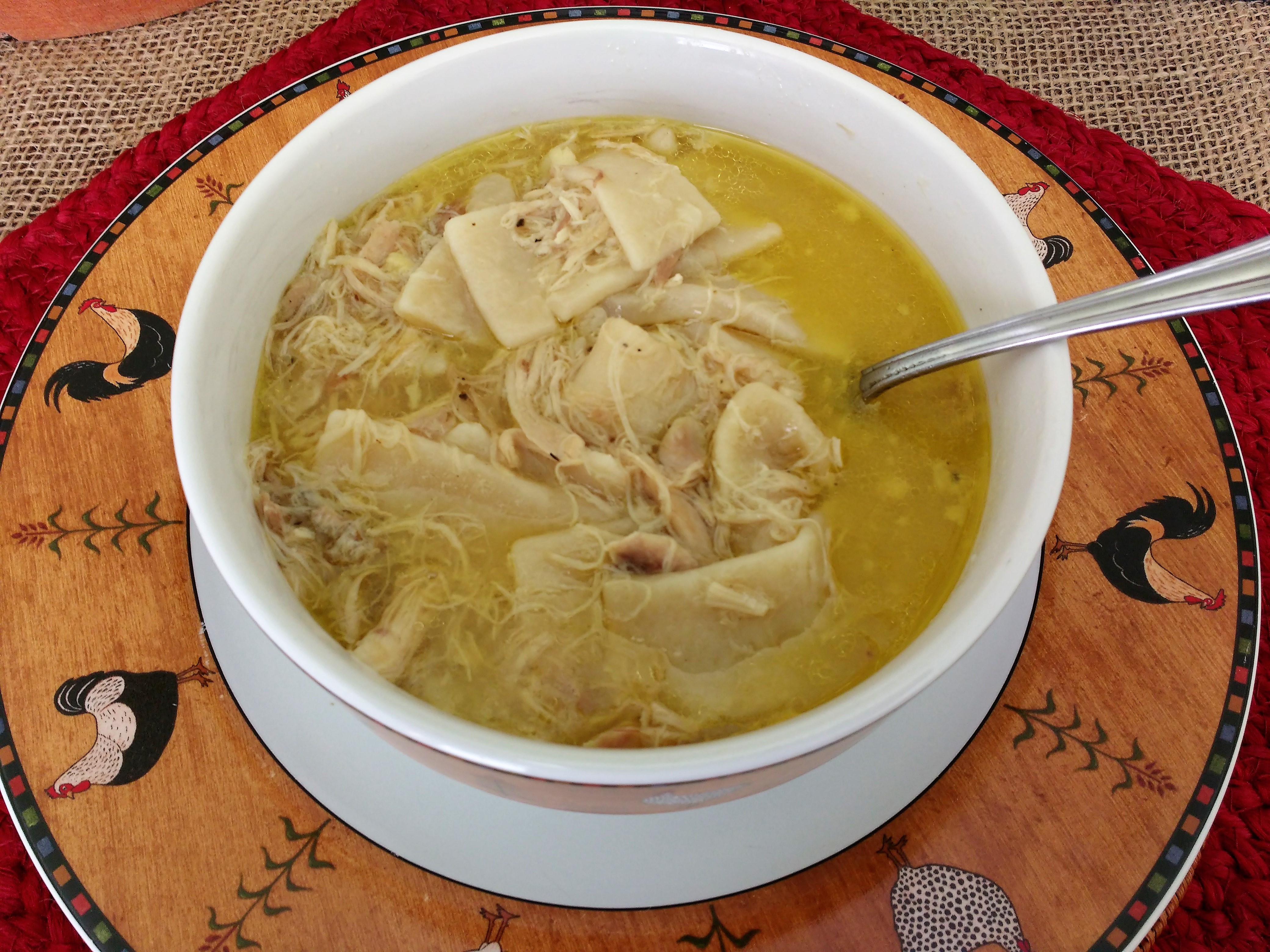 Whether you had a nana, mamaw, or a bubbie, dinner was always special at Grandma's house. My Grandma Rigney, nicknamed Cricket, was an excellent cook in the Appalachian Mountains tradition. One of her specialties was Chicken and Dumplings. She never wrote down the recipe, but she let me watch her make it and she passed her secrets down to me. There are many ways to make this beloved comfort food, but I'm going to stick to the way Cricket made it. My family wouldn't want it any other way.
One thing I remember her teaching me was that her dumplings were 'slicks', not puffy. She emphasized using all-purpose plain flour, not self-rising. Maybe you grew up with a granny that only made puffies. (I'm sure hers are delicious, too!)
You can make this recipe to feed any size family. I usually make mine in a massive pot, using probably 8 pounds of chicken thighs and quarts of broth, but I've cut this recipe down to serve a family of 4.
Start with about 3 pounds of chicken pieces of your choice that have both the skin and bones. I use chicken thighs, but you could use leg quarters or the whole cut up bird. I prefer the thighs as I find they have more flavor, are economical, and have only one bone and minimal connective tissue to deal with.
Why not skinless and boneless meat? Part of Grandma's secret is that you get so much more flavor from using less processed meat. And if you can get your hands on a farm-raised chicken, the results are even better.
Take your cut up chicken pieces and sprinkle them liberally with salt and pepper. (I have a garlic/salt grinder I like to use as well.) Heat up a large pot, 6 quart size or so, and put the seasoned meat in, skin side down. Once the meat on that side is browned, turn it over and brown the other side. This creates some caramelization that will help add to the flavor, and also speeds up the cooking process.
Once the meat is browned on both sides, cover the meat with chicken stock or broth. For 3 pounds, I used about 8 cups of low sodium broth. Some of the broth will evaporate during cooking, but you want to leave plenty for all the yummy dumplings you'll add later.
Put the covered chicken pieces on to simmer for at least an hour. Don't let it boil aggressively as the broth will reduce too much. The goal isn't just to cook the chicken, but to help it become tender and develop the depth of flavor in your broth.
After an hour or so, remove the pot from the heat and let it cool enough so you can remove the chicken pieces to a colander with a bowl underneath to catch any juices. Remove the skin and bones from your chicken and discard. Take the meat and tear or chop it into smaller pieces. Return the meat and any juices to the broth.
Now it's time to make the dumplings! In a bowl, combine 1 ½ cups plain flour (not self-rising) with a ½ teaspoon of salt. With your fingers, work in ¼ cup of shortening, until the mixture looks crumbly. Take ½ cup of your chicken broth and add it to the dumplings. Stir until the mixture forms a ball. Roll it out very thin and don't fuss too much about making it a perfect shape. I go for a rough rectangle, and you can make your dumplings as thick or thin as you like. Once rolled out, take a pizza cutter and make horizontal straight cuts across to form strips that are about an inch wide. Go back and make vertical cuts to create dumplings of whatever length you like. I go for about 2-inch long ones, but it's up to you. If some are small and others big, it really doesn't matter. Even scraps are used.
Put the chicken and broth to a simmer and drop in your dumplings, one at a time. Once they are all in, stir through once and let them simmer for 10 minutes until cooked. Take a taste and add salt and/or pepper as needed. At this point you are ready to eat, but you can keep the dish warm until ready to serve.
Does your family have a favorite chicken and dumpling recipe? Do you prefer puffy dumplings over slicks? If so, feel free to share, because dinner is always special at Grandma's house.