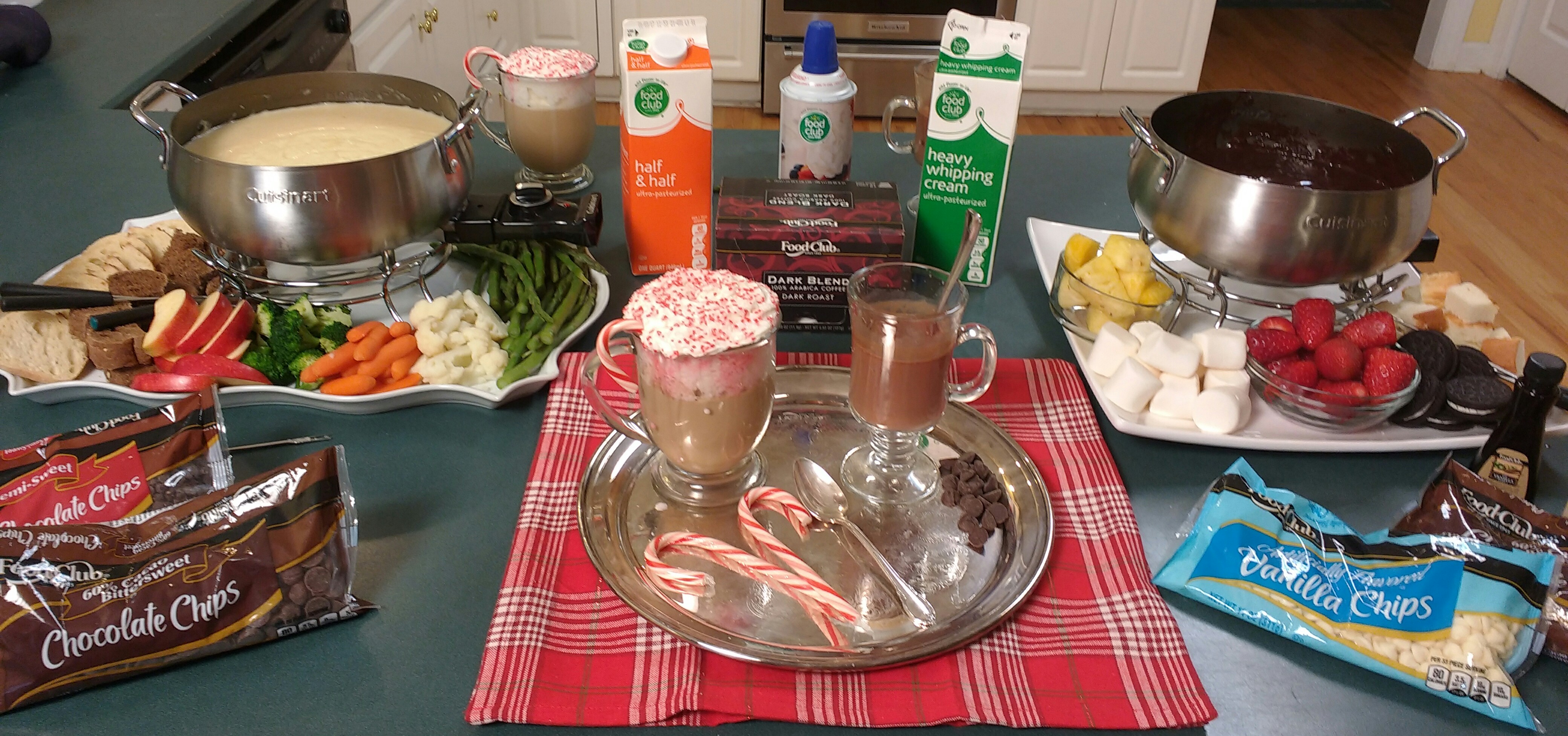 We all know what comes after the holiday blitz of December: the gym workouts and kale smoothies of January. But before we step into our New Year's Resolutions, there's still New Year's Eve and Day to celebrate. So enjoy one last chance to indulge in decadence with these delicious treats, perfect to serve with your family and friends.
To watch us make these recipes on TV, watch our Daytime Tri-Cities segment here: http://wjhl.com/2016/12/30/food-city-friday-festive-holiday-treats/!
Liquid Truffle
My husband and I celebrated our 30th anniversary recently by travelling to Asheville, NC, and enjoying some of the amazing food there. One discovery was this delicious drink, which I quickly realized would be very simple to recreate at home. It's basically 1/4 cup of warm chocolate ganache mixed with a 1/4 cup of warm half and half. This makes a thick, drinkable truffle. And believe me, 1/2 cup total of this drink is all you'll need! If you want to lighten it up, use milk instead of the half and half. You could also play with the flavors by adding a shot of espresso or a splash of your favorite flavoring or liqueur.
To make the ganache, simply bring 3/4 cup of heavy cream to a boil in your microwave, which should take more than 2 minutes on high. Pour the hot cream over 8 ounces of finely chopped semi-sweet chocolate, or use 1 1/4 cups of chocolate chips instead. Stir until the chocolate is melted completely. Add in a splash of vanilla or your favorite liqueur. If you let it cool it will harden but it's very easy to rewarm to melt.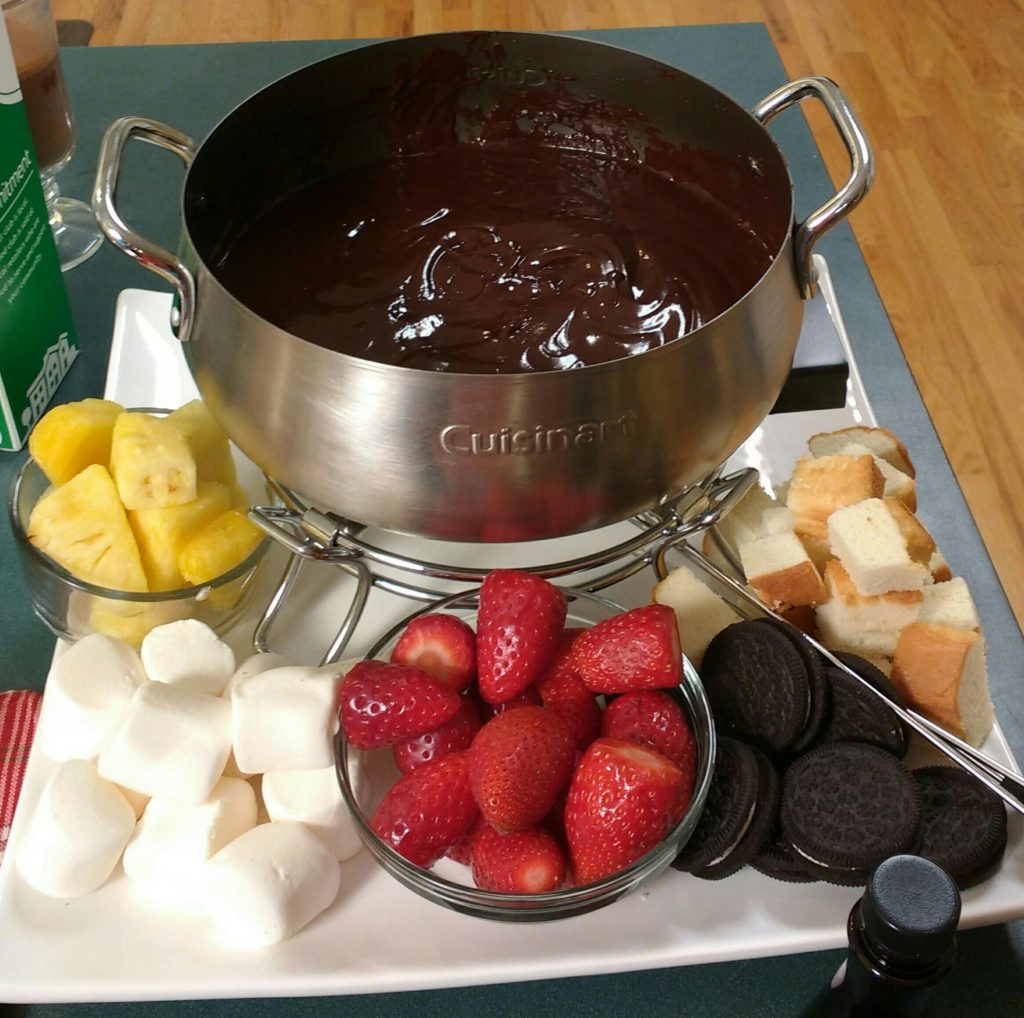 Chocolate Fondue
Take the same chocolate ganache and gently heat it in a fondue pot or crock pot. Serve with your favorite dippables, such as fresh strawberries, pineapple chunks, cubes of pound cake, pretzels, cookies, marshmallows, etc.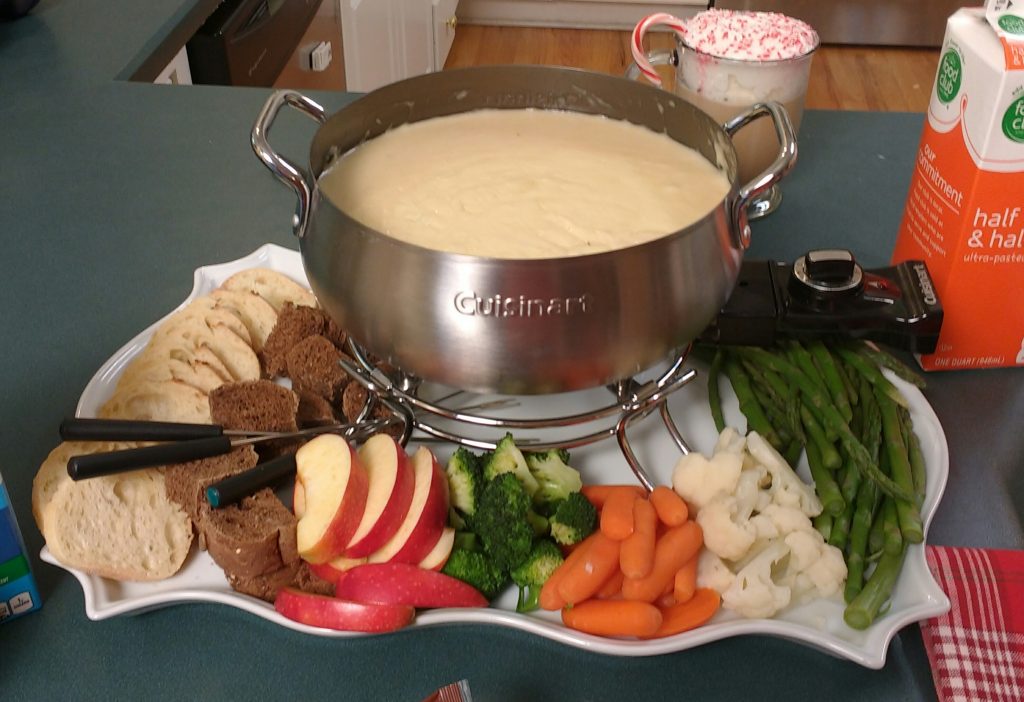 Cheese Fondue
Grate 1/2 pound each of Swiss and Gruyere cheese and toss with 2 tablespoons of cornstarch. On the stove, bring one cup of white wine and 1 tablespoon of fresh squeezed lemon juice to a simmer. You can substitute a low sodium chicken broth for the white wine if you want to. Slowly add some of the cheese to the simmering liquid and stir until melted. Continue adding small amounts of cheese and stirring it, until it's all incorporated and melted well. Add in 1/2 teaspoon of dry mustard and a pinch of grated nutmeg. If your mixture gets thick, you can thin it out with more wine or chicken stock. Serve the warm fondue in a fondue pot or crock pot with chunks of good quality bread and parboiled veggies, like cauliflower, broccoli, carrots, and asparagus.