What could be better than a lazy fall weekend morning and filling the house with the delicious aroma of these cozy breakfast dishes?
Gather your family around the table and savor the flavor of this seasonal favorite: pumpkin spice!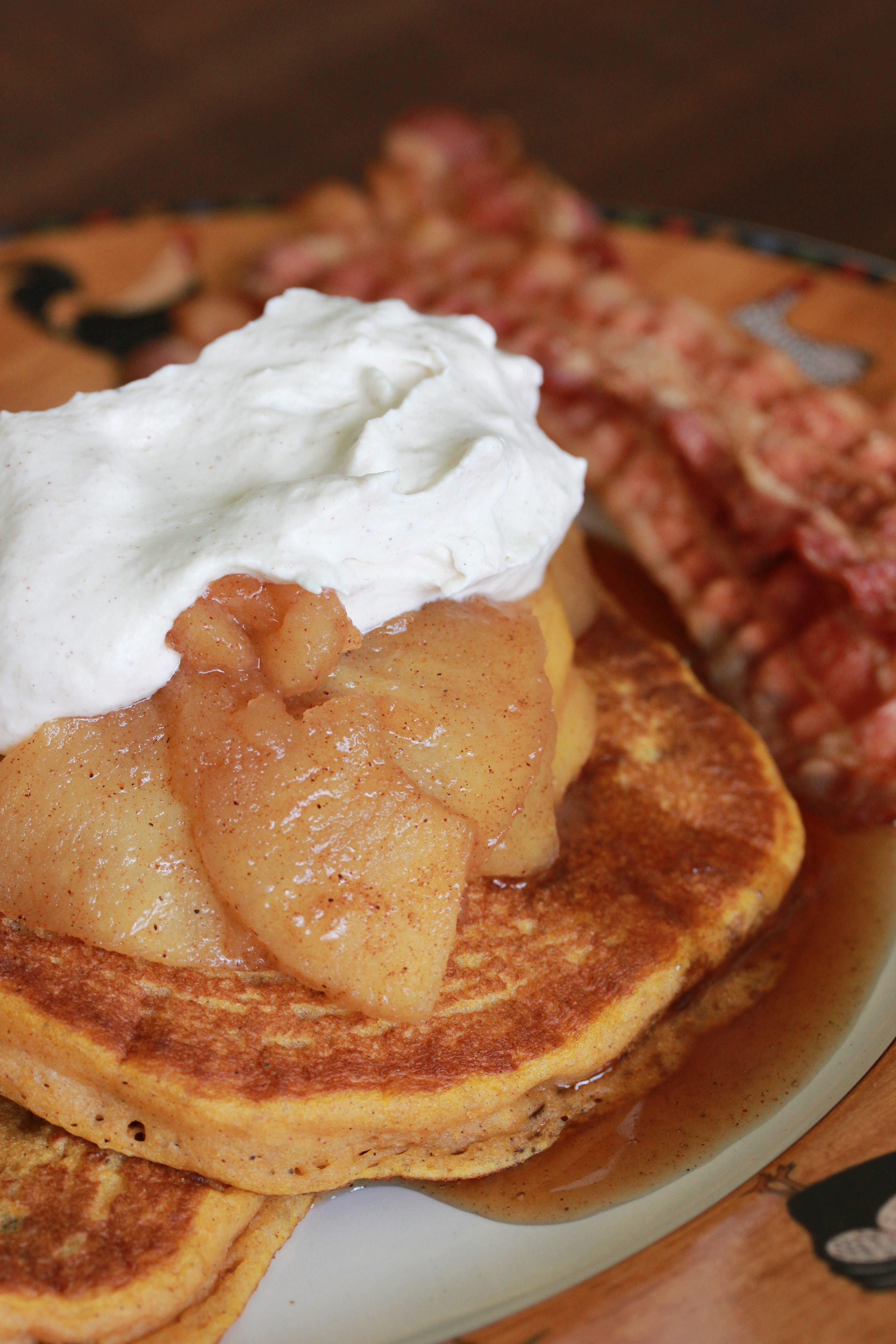 Pumpkin Spice Buttermilk Pancakes
Yields about 9 small pancakes
Preheat your griddle or skillet. In a bowl, beat:
1 egg
Add and whisk in:
1 cup buttermilk
¼ cup pureed pumpkin
2 tbsp. vegetable oil
1 tsp. vanilla
In another bowl, whisk together:
1 cup all-purpose flour
1 tbsp. sugar
1 tsp. pumpkin pie spice
1 tsp. baking powder
½ tsp. baking soda
½ tsp. salt
Pour the wet ingredients into the dry ones and whisk just until the dry ingredients disappear. A few lumps may remain. You can add more buttermilk if you want the batter to be thinner. Stir in:
¼ cup chopped pecans
To know if your griddle is ready, sprinkle a few drops of water on the surface. If they 'dance', it's ready. If they don't, it's not hot enough. If they instantly disappear, your griddle is too hot. You can use non-stick spray if you like; put on right before use. (Butter tends to burn.)
Use a ladle or scoop and put about a ¼ cup of batter down on your griddle for each pancake, leaving space so they don't grow together.
When the edges start to appear dry and bubbles form and break on the surface, your pancake is ready to flip. The second side takes little time to finish. Remove pancakes to a serving plate and cover with aluminum foil to keep them warm until all pancakes are done.
Pumpkin Spice Syrup
When I was a kid, my mom would often make our pancake syrup on the stove in a pan, using water, brown sugar and maple flavoring. That memory inspired me to create a Pumpkin Spice Syrup, but this one you can make in the microwave.
In a glass measuring cup, combine together:
½ cup white sugar
½ cup brown sugar
¼ cup plus 2 tablespoons of water (3/8 cup)
Put on high in the microwave for one minute. Stir well. Heat again until you see it boil. (Be careful, as syrup is very hot.) Remove from the microwave and stir until all the sugar is dissolved. Stir in:
¾ tsp. pumpkin pie spice
1 tsp. vanilla
Pinch of salt
Add 1 tablespoon of butter if desired. Use right away. If you save some for later, it will start to crystallize. Adding a couple of teaspoons of corn syrup will help prevent that and you can heat the syrup again to dissolve crystals.
Pumpkin Spice Whipped Cream
Stir together 1 tbsp. powdered sugar with ¼ teaspoon of pumpkin pie spice. Add to ½ cup cold whipping cream and a splash of vanilla. Whip until stiff.
Skillet Apples
Peel, core and slice 3 apples. (I used Granny Smith and Jonagold.) Heat a skillet, add a few pats of butter and put in the apples. Turn and cook until they begin to soften. Add 2 tablespoons of brown sugar, the juice of 1/2 lemon, ½ teaspoon of cinnamon or pumpkin pie spice, and a few more pats of butter. Stir until all combined and apples are cooked through. Adjust sugar, lemon, butter and spice to taste. You can easily increase this recipe depending on how many mouths you are trying to feed. I used 6 apples for mine. 🙂

Pumpkin Spice French Toast
Cut French bread into ¾ inch slices. (If my loaf is narrow, I cut on an angle to increase the diameter of the slices. And old bread works better, believe it or not. Years ago when money was super tight, I would regularly feed my large family a meal using old discounted loaves. A cheap and tasty dinner!)
In a bowl, beat
4 eggs
Add
Pinch of salt
1 tsp. vanilla
¼ cup pureed pumpkin
½ cup of milk, half and half or whipping cream (your choice)
Stir together
2 tbsp. sugar
½ teaspoon pumpkin pie spice
Add the sugar/spice mixture to the other ingredients and whisk together.
Make sure skillet or griddle is preheated. Add a little butter to cooking surface and dip a slice of bread on both sides into the French toast mixture. Let the excess drip off and place into the skillet/griddle. Turn once brown on one side and cook on the other. This recipe will make almost one full loaf of French Toast. Top with maple syrup, Pumpkin Spice Syrup, or a mixture of powdered sugar and pumpkin pie spice.