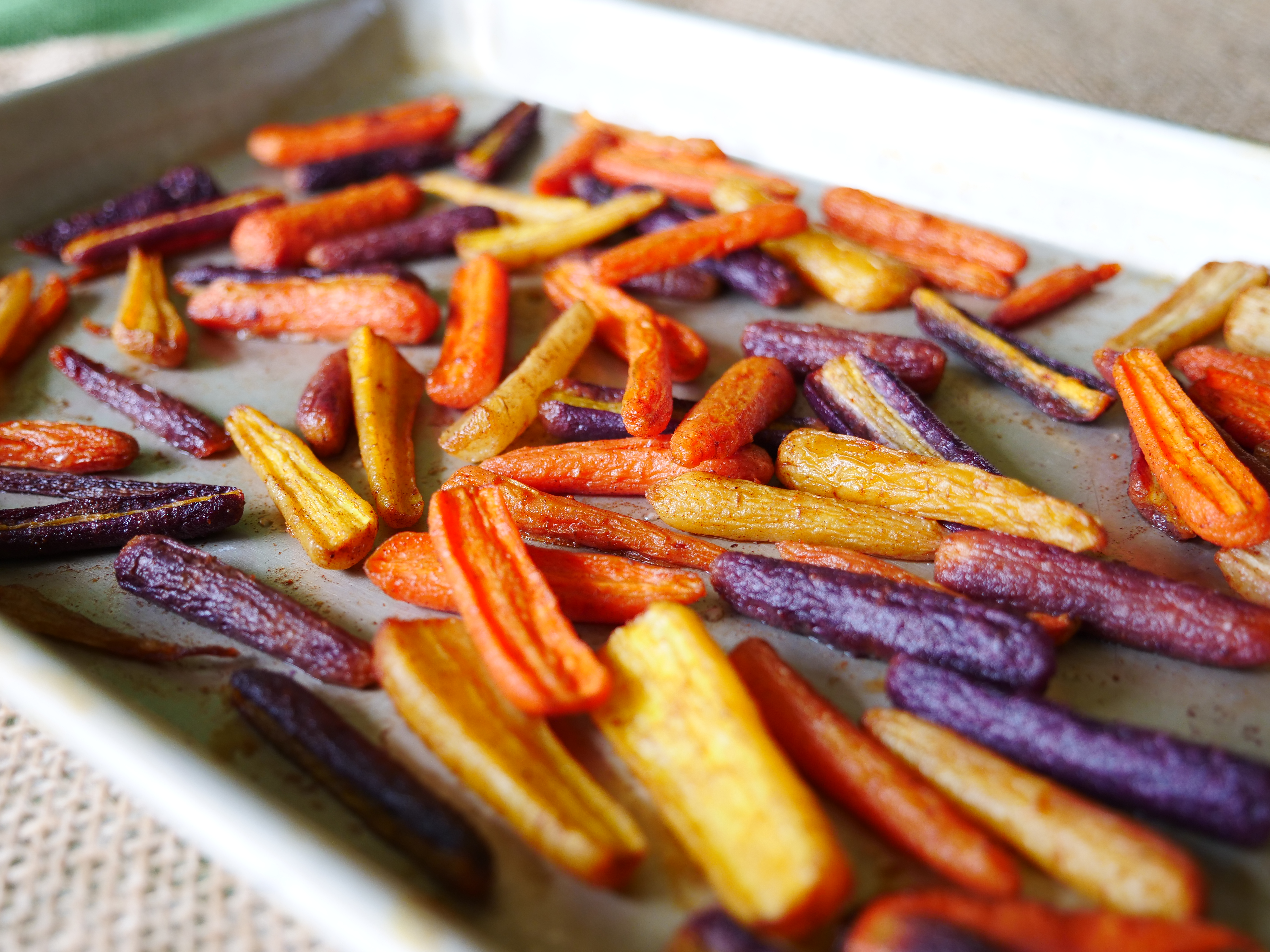 Recently I asked my Daytime viewers to send me their questions to use on a December segment, but I couldn't answer them all. One of them, from Terri K., was ideas for low cost, easy side dishes that even picky eaters would like. That got me thinking about one of my fav side dishes: roasted vegetables.
Back in the day, people in the middle of the winter didn't have as many options as we do when it comes to food. They had to use what they had stored in the root cellar from their fall harvest and what they had canned or dried in the summer: carrots, potatoes of all types, onions, dried beans, turnips, etc., Today we can pretty much get whatever we want anytime of year. (Tomatoes are a notable exception, unless you call the pinkish-not-really-red fruit grown in hothouses tomatoes!) But there is something comforting about golden-brown roasted root crops and late fall plants, such as broccoli, cauliflower, carrots, brussel sprouts, and onions. Throw in some mushrooms and asparagus and you have a cornucopia of yumminess.
Roasting vegetables and potatoes brings out a delicious caramelization that is not only visually appealing, but adds a sweetness and depth of flavor you can't achieve otherwise. For picky eaters, I find that by starting with carrots, they will often get curious and try the other veggies you offer over time. As for low cost, when you combine the nutrition factor along with inexpensive choices, you don't have to spend much at all. Prep time is minimal, and while the veggies are roasting, you can put the rest of your dinner together. The details are shared below.
If you've never roasted your veggies, give it a try. Especially the mushrooms. They are simply fantastic!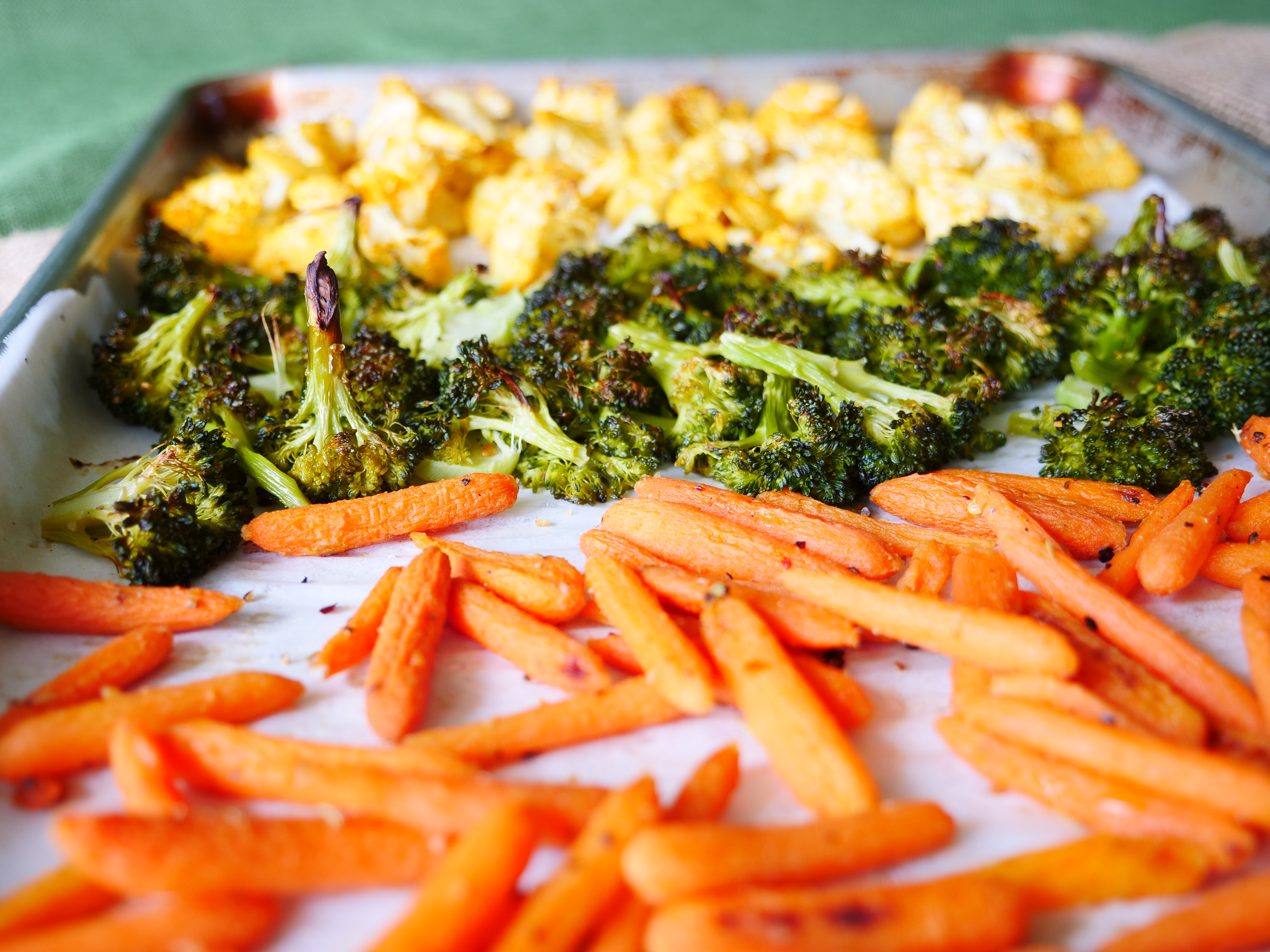 Roasting vegetables is very simple to do. Turn your oven to 400 convection roast, or 425 roast if you don't have a convection oven. (You can use the bake setting if you don't a roast option.) Use a large baking sheet, which you can line with parchment or foil if you want to make cleanup easy. I would certainly do this with potatoes, as their strarchiness tends to make them stick sometimes. Put whatever veggie you like: baby carrots (no prep time!), brocolli or cauliflower in bite-sized pieces, etc., into a bowl. Drizzle with olive oil and toss with a large spoon to coat. Sprinkle on seasonings of your choice. I like grinder spices that combine salt, garlic, pepper, dried veggies, etc. You can also sprinkle on salt and any ground spices of your choice, even add some chopped parsley. Stir and toss again, then place on the baking sheet. With multiple vegetables, I place them in rows next to each other. Bake for about 30 minutes, depending on how brown you want them to be. Below, I'll share some specific ideas.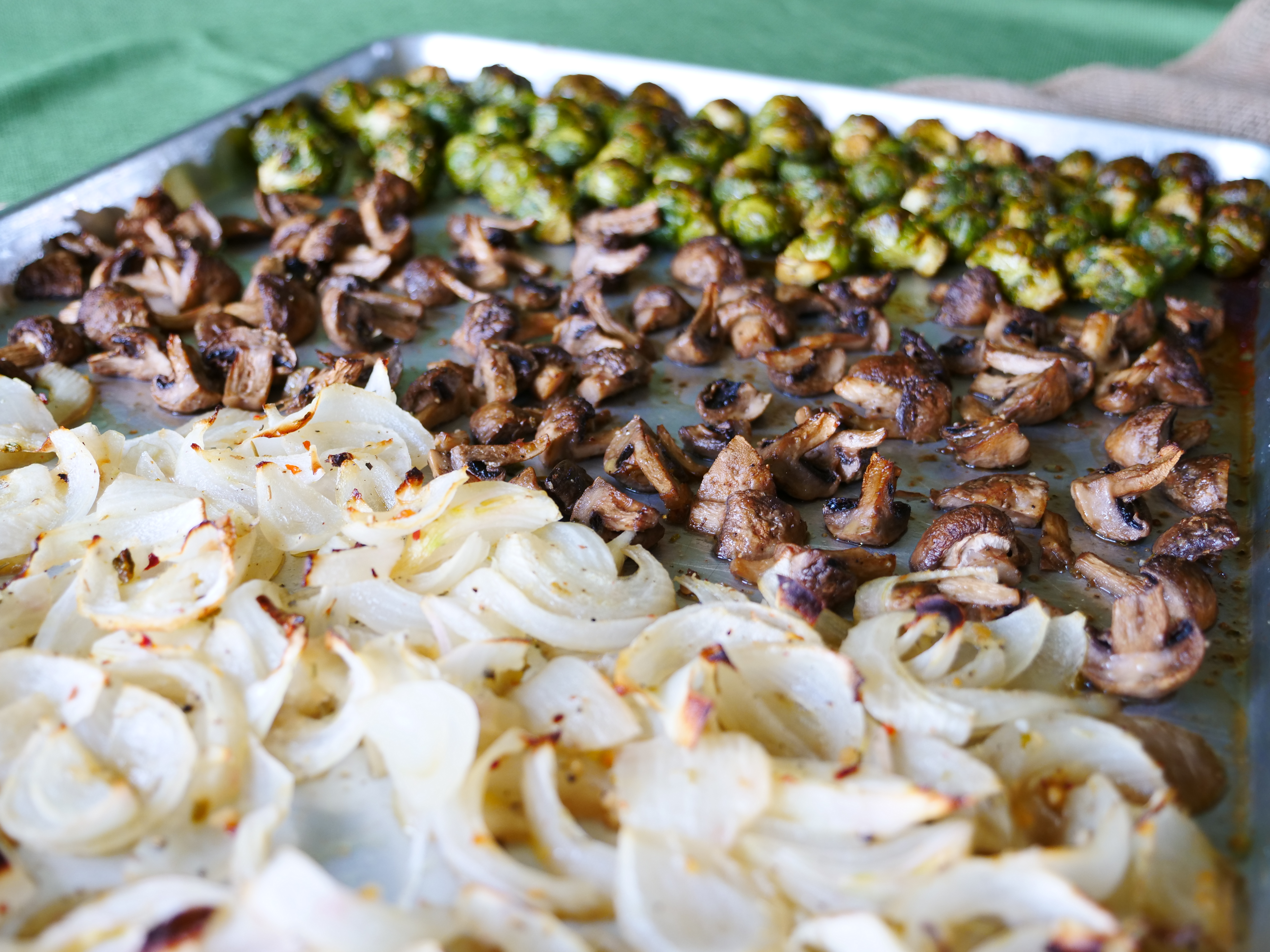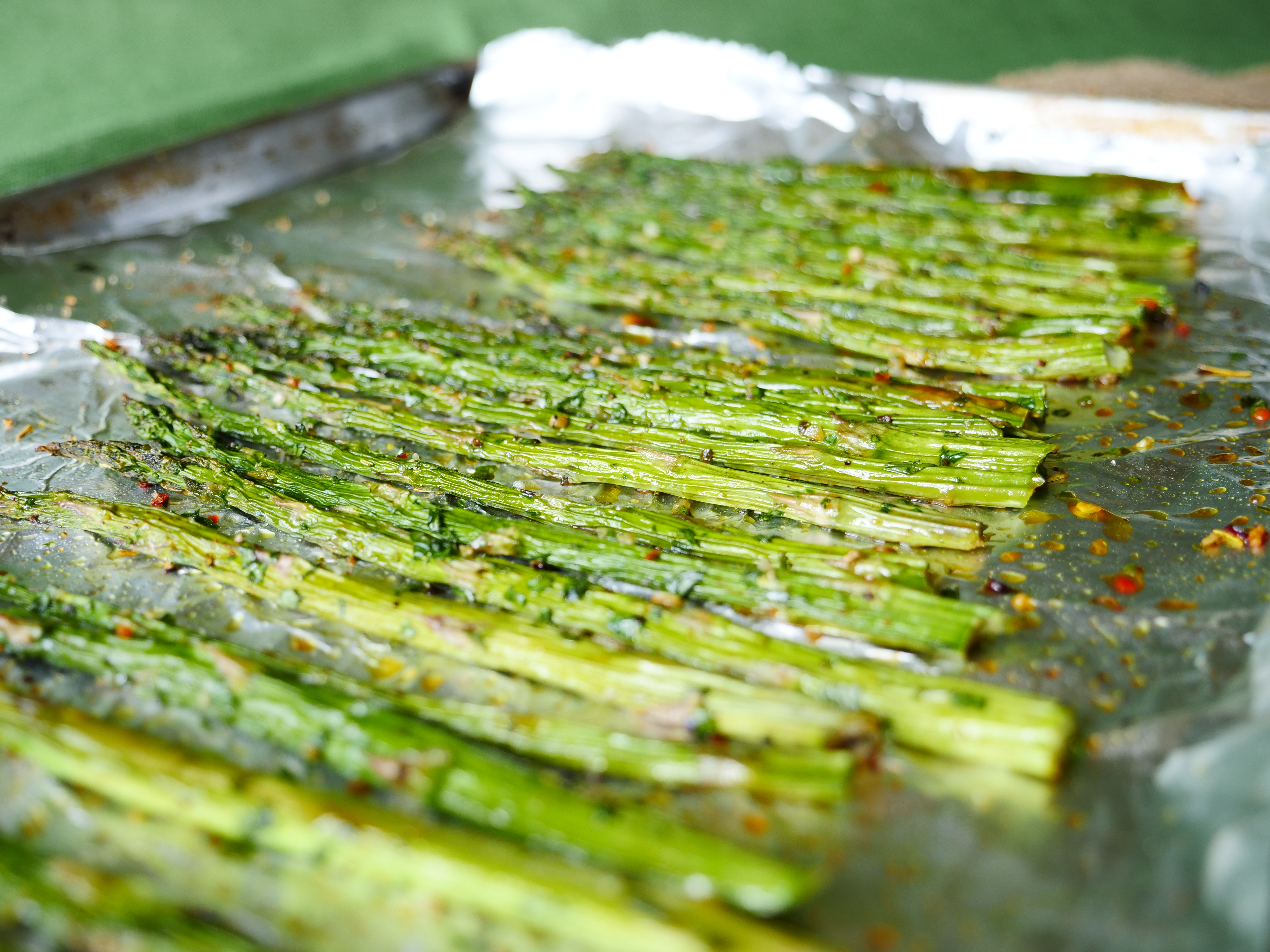 I toss all of my veggies in olive oil, but you can use your favorite and whatever salts/spices/pepper/garlic you like. You can mix up the flavors and do each one differently. Remember to use more seasoning than you first think. No one wants bland food, picky eaters or not!
Carrots: I like to use mini-carrots as they is very little prep time. Olive oil with your favorite grinder, or for the picky ones, use a little raw sugar and a heavy sprinkle of cinnamon. So delicious!
Brussel Sprouts: You might need to trim the bottoms off some, and for bigger ones, cut them into halves or even quarters.
Cauliflower: Perfect when tossed with a little smoked paprika.
Broccoli: Don't throw those stems away! Trim off the skin and slice to roast, or eat them raw. Tastes like a turnip! Of course, the heads taste marvelous when roasted.
Onion: I like to use sweet onions for the taste, but any root onions will do. They won't be crispy, but the edges will brown nicely and the flavor is just splendid.
Mushrooms: To clean, don't soak as they will absorb too much water, but a gentle, quick rinse will help if there is any dirt. Cut into halves or quarters, depending on the size They will give off a good deal of water during cooking, but it will evaporate away at the end.
Asparagus: Not a winter vegetable, but so amazing! Bend up from the bottom an inch or two and bend it, so it will snap off where the tougher part ends. Asparagus will take less time to cook than other veggies, so check after about 20 minutes and adjust your time. I serve my finished asparagus with a squirt of fresh lemon.
Sweet Potatoes: Peel and cube, toss with oil and some cinnamon. Their natural sweetness makes them perfect for the picky palates.
White Potatoes: I like Yukon Gold, a variety I also grow in my spring garden. Slightly yellow and perfect for roasting. Leave the skins on. Cut potatoes the same size so they cook evenly.
Red/White New Potatoes: Thin skins mean no peeling.
Baby Red/White/Blue Potatoes: Smallest ones need no cutting and so pretty when cooked.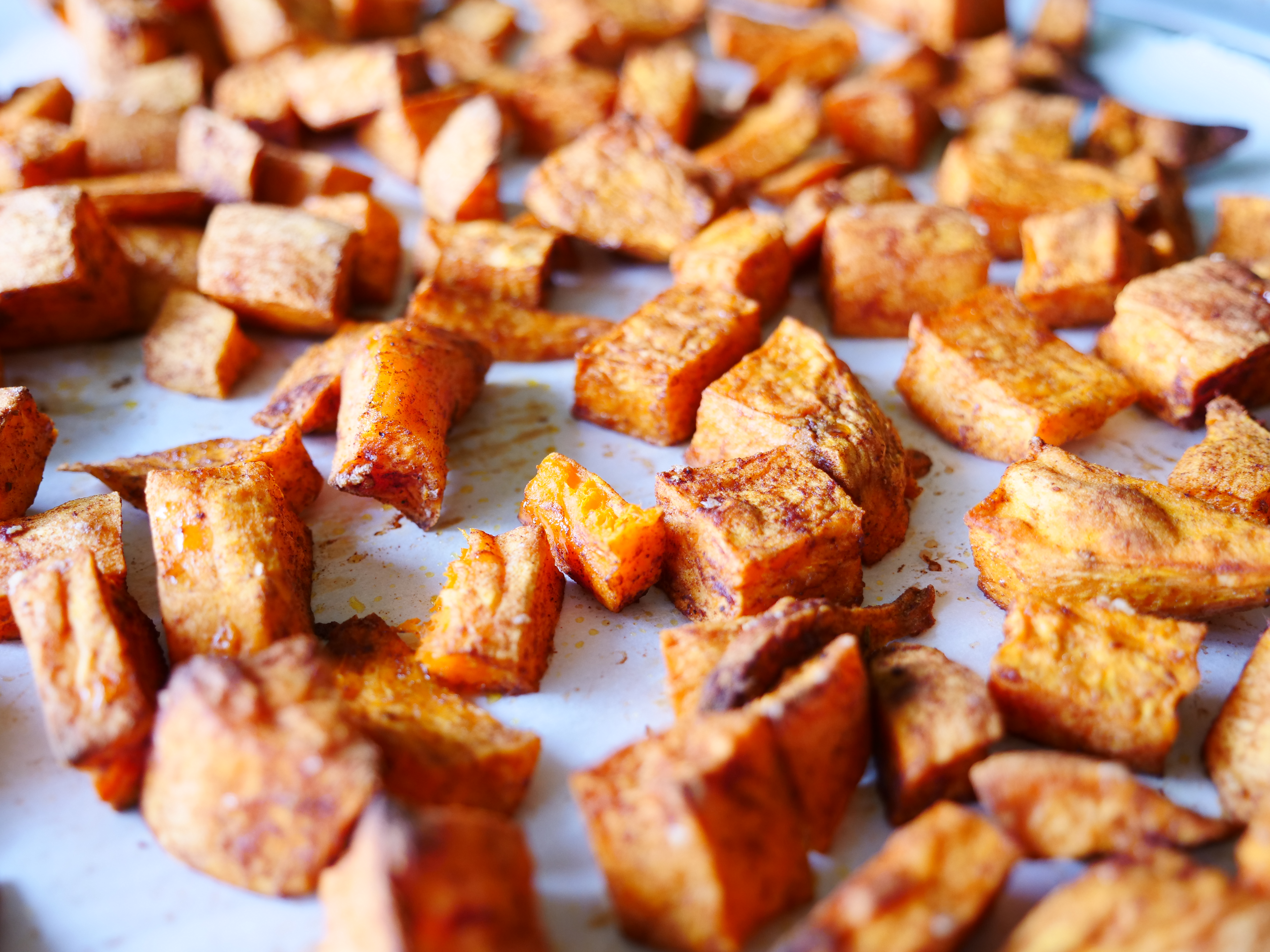 Baked Potatoes: Russets are perfect for baking. Scrub clean and use a fork to poke several holes all over it. Rub olive oil onto the potato and sprinkle generously with kosher salt. Wrap in foil and put straight on the baking rack at 375 degrees for one hour. Another option is to cut multiple thin slices into the top, but not all the way through and repeat with the oil, salt and foil as listed above. I've seen pictures where people put slices of butter between each slice, but who has time for that? You can do baked sweet potatoes the same way, but they cook in less time, about 45 minutes. But the bigger the potato, the longer the baking time.