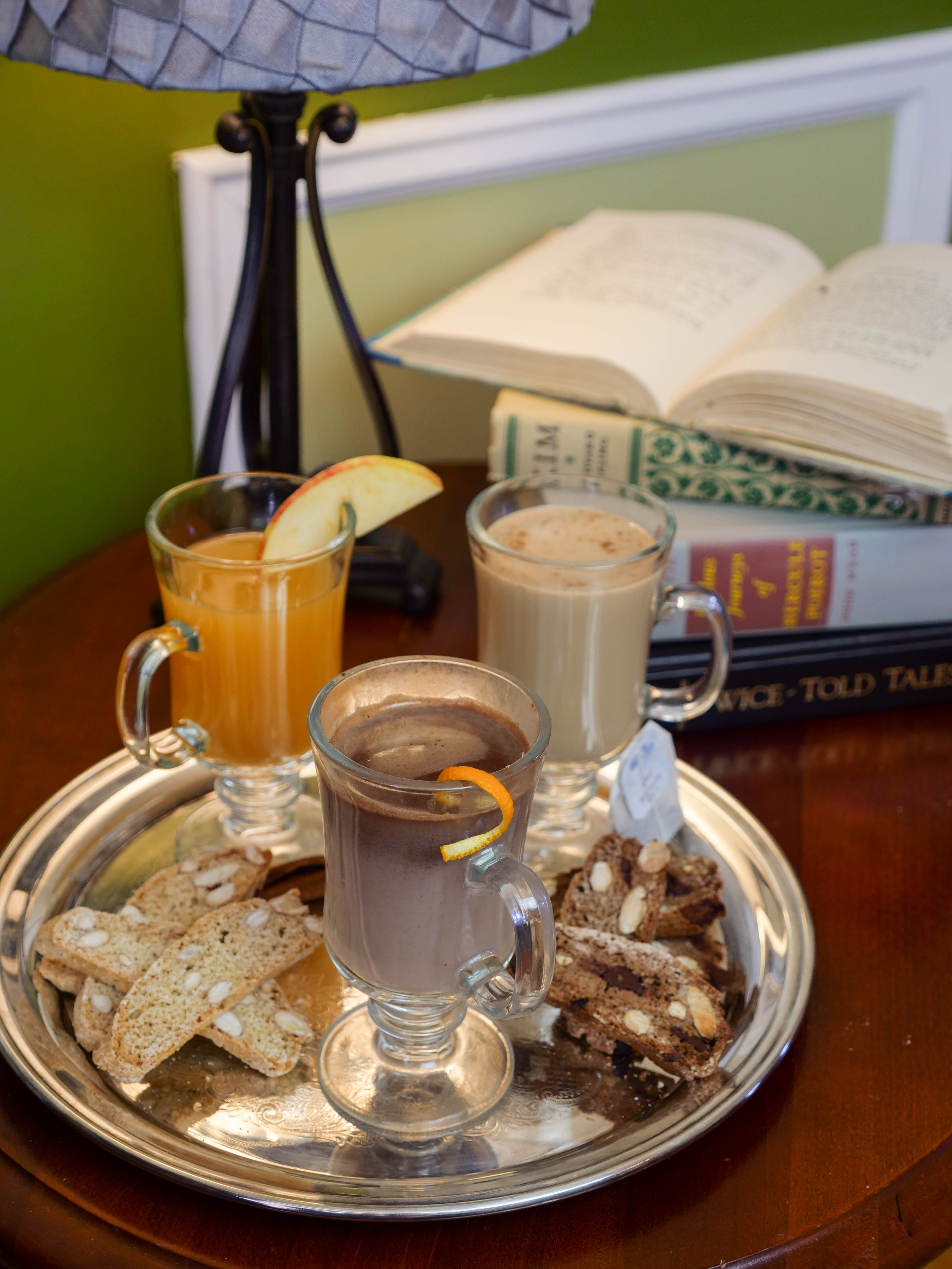 A nip in the air signals that November has come, along with the urge to snuggle under a soft blanket, kick back, and enjoy a good book or a favorite movie. Here are some cozy mug drinks and the perfect cookie to dip into them: biscotti, or more spefically, Cantuccini. This classic Italian almond biscotti is designed to be dipped into vin santo, but I thought it would pair just as well with hot chocolate, apple cider, or chai latte.

Cantuccini
If you aren't a great baker, these are the cookies for you, because you can't over mix them and you can't over bake them. These biscotti are baked twice, first in a log shape, then sliced and baked again. This results in an extra hard and crunchy cookie that will keep for a month if stored air-tight. And it makes them perfect to soak in your favorite beverage, which is how they are designed to be eaten. I've included my take on the classic, along with my chocolate version. Thanks to the Baking with Julia Child cookbook for providing the inspiration for this delicious treat.
Preheat your oven to 350°F. Prepare a baking sheet with parchment or a silicon mat. In a bowl, combine these dry ingredients together:
2 ¼ cups AP flour (might need a few more tablespoons later if your dough is too wet)
¾ cup sugar
2 teaspoons baking powder
½ teaspoon cinnamon
¼ teaspoon cardamom
¼ teaspoon salt
Stir in
1 ½ cups plain whole raw almonds
In another bowl, combine
3 eggs, well beaten
2 teaspoons vanilla
½ teaspoon almond extract
The finely grated zest of one orange (you can substitute or add lemon zest if you like)
Combine the egg mixture into the dry mixture and knead until well combined. I needed to get my hands involved as a spoon simply couldn't finish the job. Add a tablespoon or so of additional flour if your dough is too sticky to handle. Once the dough comes together, split it in half and form each part into a long log on your cookie sheet, about 12 inches long and 2 inches wide. Round the sides of your logs so they bake into the traditional biscotti shape. If you want large biscotti, you can form your logs to be shorter and wider.
Bake the logs for about 30 minutes or until firm to the touch and lightly brown on the bottom. Remove to cool to a rack. Once completely cool, get a sharp bread knife or other serrated knife and cutting at an angle, form slices about ¼ inch thick the length of your log. (The very ends will be a funny shape and are great to eat right away!) Place the slices back on your baking sheet and return to a 350°F oven and bake for at least 10 minutes, or until the biscotti are very hard and lightly toasted. Let the cookies cool and store them airtight so they don't lose their crunchiness. While you can eat them as is, they are far better when dipped into the beverage of your choice.

Chocolate Cantuccini
Follow the recipe above, with these exceptions: Add 2 tablespoons of Dutch processed cocoa to the flour. (You can substitute regular unsweetened cocoa if you don't have Dutch processed.) Leave out the cardamom. With the almonds, add in 1 cup of large bittersweet chocolate chips. Use only orange zest, no lemon. Dough is mixed, formed and baked in the exact same way.

Orange Hot Chocolate
Orange and cinnamon flavors are perfect compliments to a rich chocolate flavor and in this recipe, subtle enough to add a delightful twist to this year-around favorite. The following can also be used as a delightful chocolate sauce.
In a microwave safe bowl or glass measuring cup, stir together:
½ cup heavy whipping cream or evaporated milk
3 tbsp. sugar mixed with ½ teaspoon cinnamon
2 tbsp. unsalted butter
Finely grated zest of ½ an orange
Bring to a boil in the microwave, which will take two minutes or so on high, depending on your microwave. Once it's reached a good rolling boil, stir well to make sure cinnamon is well combined. Add all at once:
1 ¼ cups of semi-sweet chocolate chips (8 oz.)
After one minute, whisk the mixture until nice and smooth. Stir in:
2 tsp. vanilla
You can use it right away or let it cool. Use 3 spoonful's to an 8 oz mug of warm milk and stir together, or more or less according to your taste. You can heat the milk and chocolate mix together in your mug in the microwave, or make multiple servings using a large glass measuring cup in the microwave or a pot on the stove.

Spiced Apple Cider
I like to take real cider, not apple juice, and gently warm it with a splash of orange juice (one cup orange juice to ½ gallon of apple cider), and use cheesecloth to hold delicious spices: 5 or so sticks of cinnamon, a tablespoon of whole cloves, and a star anise, along with large pieces of orange and lemon peel. Let simmer at least 15 minutes and taste. You may want to add a little sugar depending on your cider's sweetness.  You can remove the bag of spices and peel before serving.

Chai Latte
It's easy to find chai tea in bags or mixes. Simply brew your tea with half water and half milk. You can add ground spices, like cinnamon, ginger, cloves, cardamom, and nutmeg. I made a larger amount on the stove, using 3 cups each of water and milk brought to simmer, then adding 4 to 6 chai tea bags, 1 teaspoon each of cinnamon cardamom, 1/2 teaspoon each of cloves, ginger and nutmeg. After steeping for 5 minutes, remove the tea bags, sweeten to taste and enjoy!