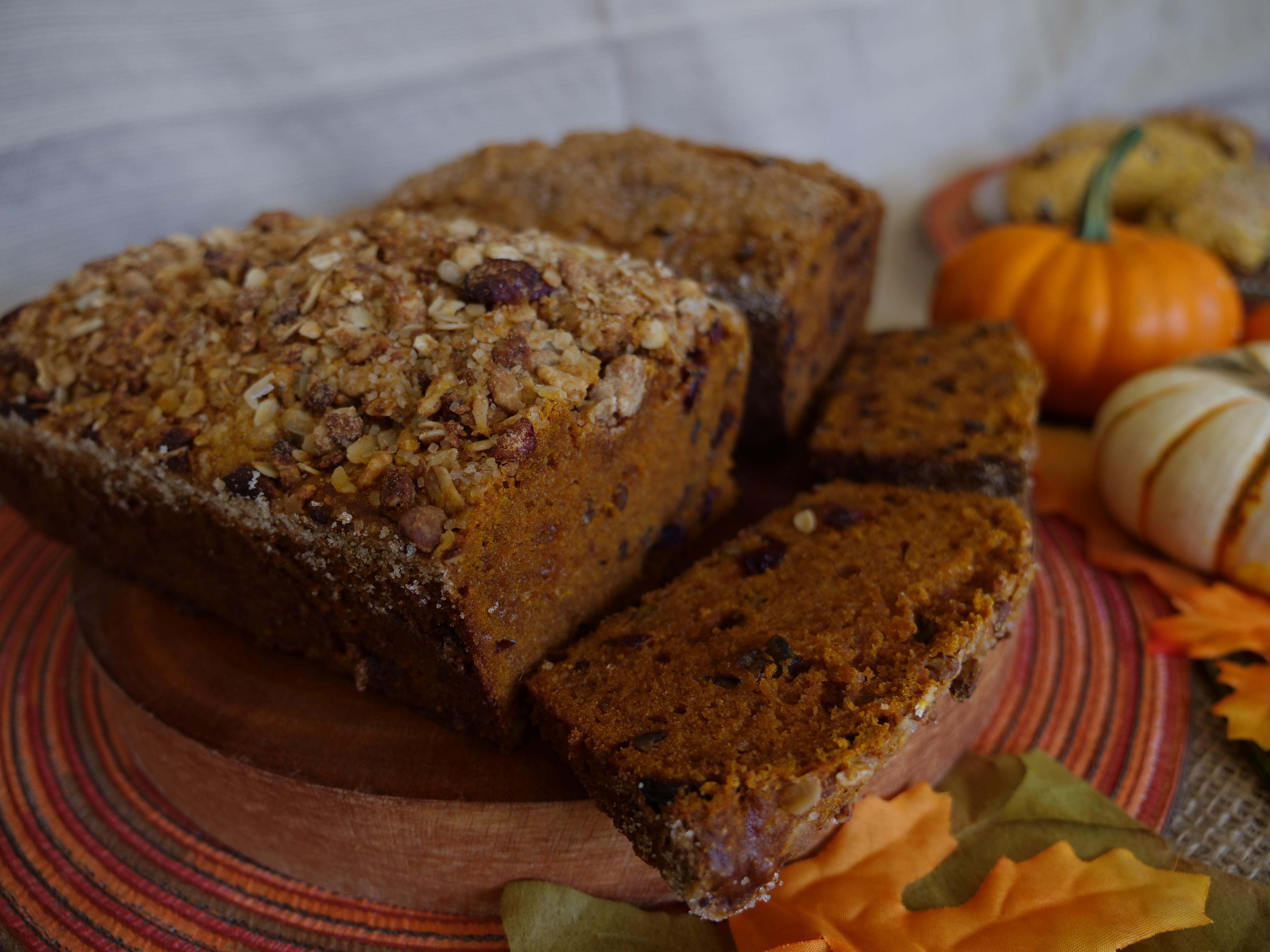 Fall color is coming late to the southern Appalachian Mountains this year, but that doesn't mean a delay in enjoying the flavors of the autumn season. Here's two delicious recipes that celebrate pumpkin and will have your family "falling" in love with this versatile orange squash.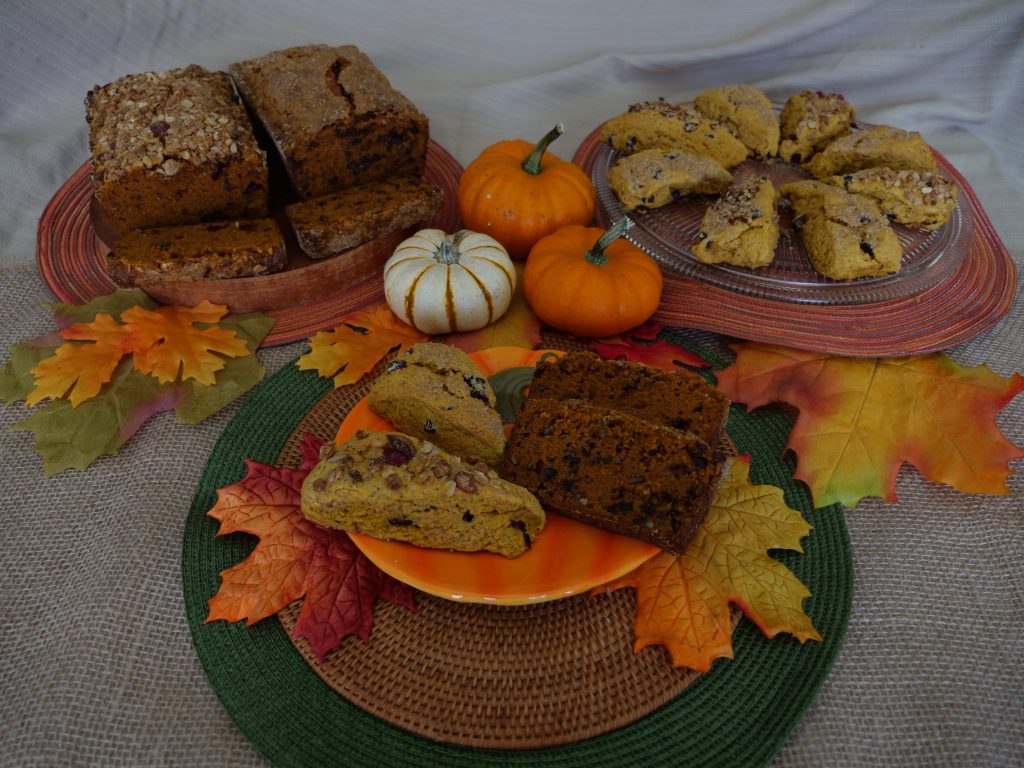 Pumpkin Bread is an all-time favorite for many and this moist version is sturdy enough to handle whatever additions you love, such as chocolate chips, nuts, or cranberries. I find that greasing my pan, then coating it with cinnamon sugar or ginger sugar, gives this bread's exterior a delightful, crunchy finish. For the cranberry version, you can sprinkle granola on top for an extra crunchy crust.
I have to give credit for the inspiration of this recipe to Sofia Lawson, who during her high school years, made this bread to fund her summer mission trips. Years ago when I asked her for the recipe, she graciously offered it and I've used it ever since.

Pumpkin Bread
Yields 3 mini loaves or one regular sized loaf
So moist and scrumptious, this bread doesn't last long at my house. Feel free to play with the spices if you like (allspice, cloves, cardamom, etc.) Be sure to try some of the yummy add-ins. My family likes the chocolate chips.
Preheat oven to 350°. Grease your pan(s). (3 mini loaf pans or one 9x5x3 pan.) I like to use shortening then coat with cinnamon sugar. In a bowl, whisk together:
1 ½ cups AP flour
1 tsp. cinnamon
½ tsp. ginger
½ tsp. salt
½ tsp. baking soda
In a separate bowl, whisk together:
2 beaten eggs
2 tsp. vanilla
1 cup sugar
1 ¼ cup canned pumpkin
⅔ cup vegetable oil
Pour the wet ingredients into the dry ones and mix together just until the dry disappears. Fold in any optional ingredients you wish, such as:
⅔ cup chocolate chips, toasted chopped nuts, raisins, or dried cranberries
Pour into your pan(s). Sprinkle top with cinnamon sugar if desired. Bake at 350° for 60 minutes for one large pan, or for 30+ minutes for mini pans. To check for doneness, insert a toothpick in the middle and see if it comes out 'clean'.  Cool for 10 minutes in the pan before removing to cool on a wire rack.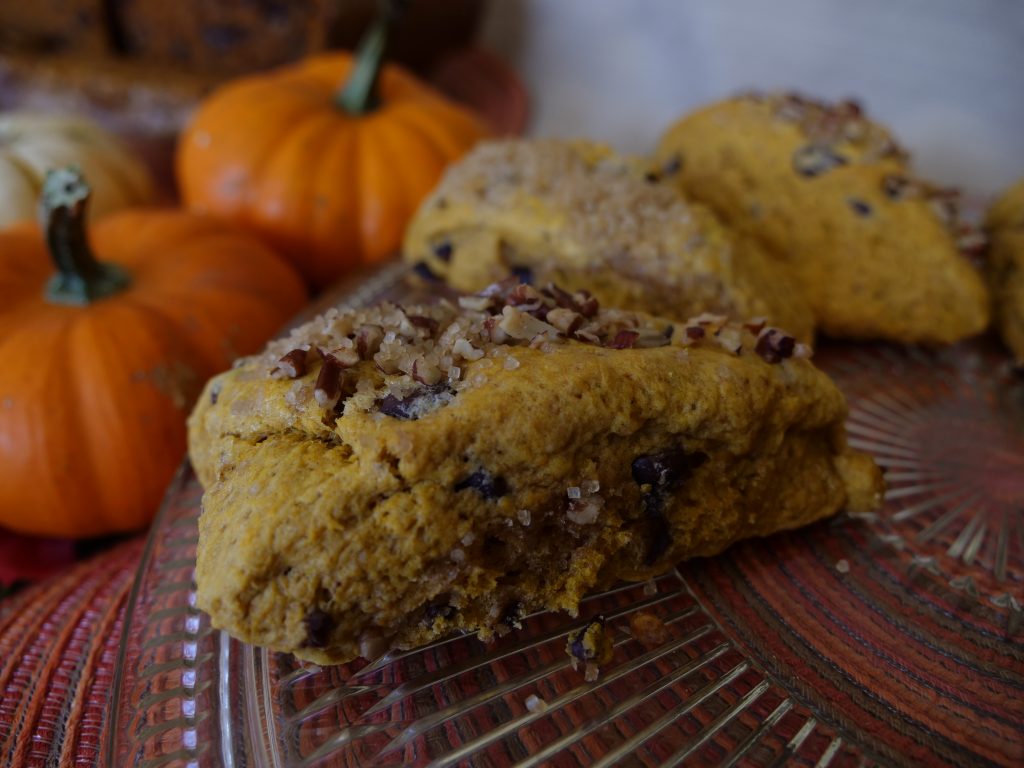 Pumpkin Scones
Scones are basically a kind of biscuit, often made with cream and dried fruit. Popular to contrary belief, scones don't have to be triangular in shape, but for this edition I kept that familiar look. Feel free to make yours into circles or squares if you like.
Heat oven to 425 ° F. Line a cookie sheet with parchment or a silicone mat.
In one bowl whisk together:
2 cups all-purpose flour
⅓ cup sugar
1 tablespoon baking powder
¼ tsp. baking soda
½ tsp. salt
1 tsp. cinnamon
½ tsp. ground ginger
½ tsp. nutmeg
¼ tsp. cloves
Once combined, use a shredder and shred in:
6 tablespoons cold unsalted butter
Use a pastry blender or two knives to cut in the butter.
In another bowl, combine
1 large egg, beaten
⅓ cup heavy cream (or evaporated milk)
⅓ cup canned pumpkin
Depending on what you like, add to the dry ingredients:
½ cup of chocolate chips or
½ cup of dried cranberries (look for the reduced sugar version. Still plenty sweet.)
Pour the wet ingredients over the dry ones. Use a large fork and mix the dry, wet and add-in ingredients together. Turn out onto a lightly floured surface and knead gently a few times to bring the dough together. Pat the dough out into an 8 inch circle. Using a bench scraper or a pizza cutter, form 8 to 12 wedges of dough out of the circle. Place the wedges on a lined cookie sheet and dab the top of each scone with cream. Sprinkle either large chunk sugar, granola, pecan chips, cinnamon sugar, or a combination of any onto each scone. Bake for 12 to 14 minutes or until lightly browned and baked through. You can glaze them if you want, but I think they're great just as they are, especially with a nice cup of coffee or tea.