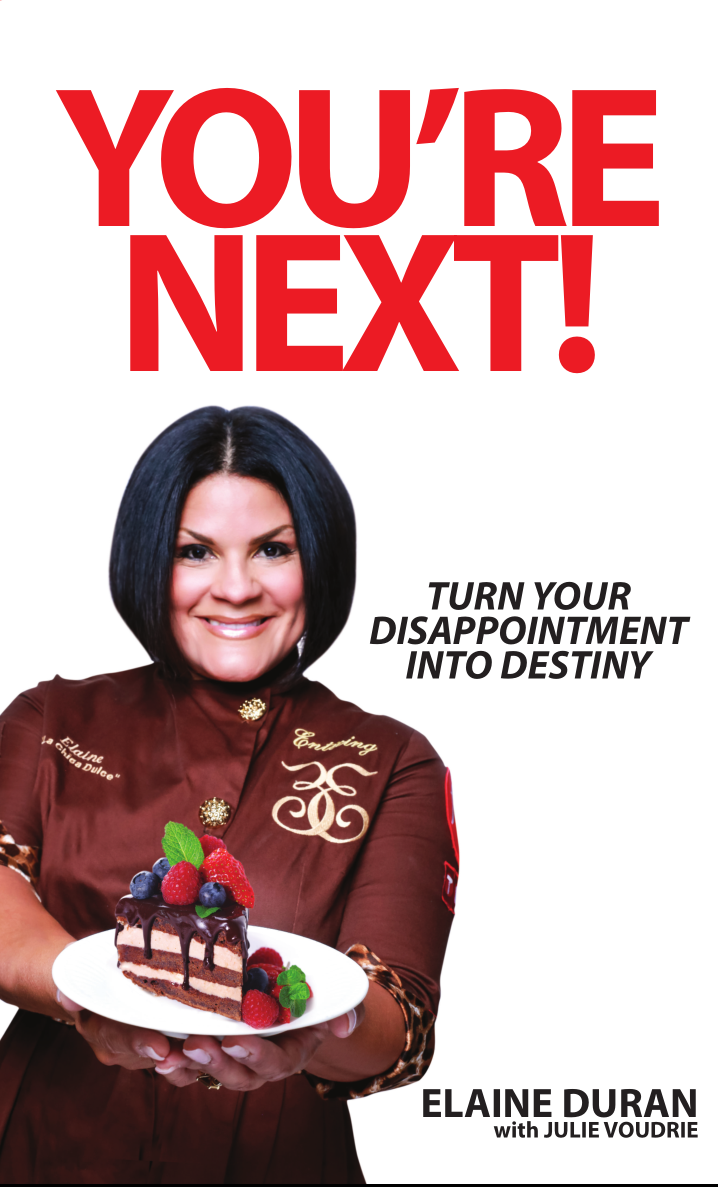 I am super excited to share this amazing book with you, written by my good friend and fellow Next Great Baker competitor, Elaine Duran. It's her life story of how she turned some major disappointments and life struggles into a hope-filled destiny. I have to admit I'm a little biased about this book, because I had the privilege of helping Elaine write it. If you've ever felt stuck, experienced delayed dreams, struggled to find purpose, felt trapped in your past or lost hope for the future, this book is for you!
Let me share with you the one part of the book that I got to write in my own voice: the foreword. It will explain more about the purpose of the book and introduce you to my fabulous friend, Elaine Duran. To order your own copy of You're Next: Turn Your Disappointment Into Destiny, go to this link: You're Next on Amazon
Foreword
The first time I met Elaine and David Duran was at Carlo's Cake Factory in Hoboken, NJ. We were preparing for an adventure of a lifetime as contestants on TLC's Next Great Baker and I remember being impressed by this dynamic couple's warm, outgoing personality. As the days went by, they were a source of strength and encouragement to me on more than one occasion, but never more so than on my final day.
My daughter and I had been eliminated and it was time for us to return home. I managed to keep my emotions in check, until I faced some logistical issues with our packing. I couldn't hold back the tears anymore as my exhaustion, disappointment, shame, and frustration bubbled over.
While my daughter stood by watching her mom have a little meltdown, David and Elaine walked by and gave me a hug. I didn't realize until later that Elaine had slipped a wad of cash into my pocket, and her gift helped relieve one of my shipping issues. But even more meaningful was having that act of kindness in a difficult moment and the timely comfort that it brought.
Fast forward one and a half years later, to when the Duran family dropped by our home around Christmastime, as they were vacationing nearby. As we sat together catching up, Elaine shared her dream of writing a book one day.
"But I'm not a writer," she said.
I told her, "Well, I am!"
As she continued to share her vision of a book, the ideas and form flowed effortlessly in my mind. I grabbed a notebook and we began sketching out ideas. I realized that what she wanted to accomplish was not only possible, but that we could partner together to make it happen.
Four months later, I was sitting in Elaine's living room, video recording the story of her life. While I already knew a part of her history, I was amazed at her transparency and how she had overcome adversity time and time again. It was only then that I understood the full significance of Elaine's final act of kindness when I left the show.
That day when I was having my mini meltdown, I had no idea how tight their finances were. I had no idea that they were struggling to pay the bills. I didn't know they had managed to scrape together a little cash so they could go into New York City, find some souvenirs for their kids, and have a little fun for themselves. I had no way of knowing that when Elaine saw me standing there in distress, that she whispered to David, "She needs it more," and selflessly slipped the money out of her pocket and into mine.
Elaine's passion to bless others is not fake, insincere, or shallow. The lessons she presents in this book aren't just ideas to her; they are how she lives life, every day, in hard times and good times. Elaine has paid a very high price for the truth she so willingly shares in these pages. The privilege of laboring together to translate her precious life experience and wisdom into print has been an extreme honor for which I will be forever grateful.
Elaine didn't know that when she sowed a seed of kindness into my pocket that she would reap the realization of her book dream. That's just one lesson we can all glean from Elaine's life. And you'll discover many more as you read the pages to come. As my time on this project comes to an end, there's just one more thing I want to say:
Elaine, you may now officially call yourself a writer!
Blessings,
Julie Voudrie