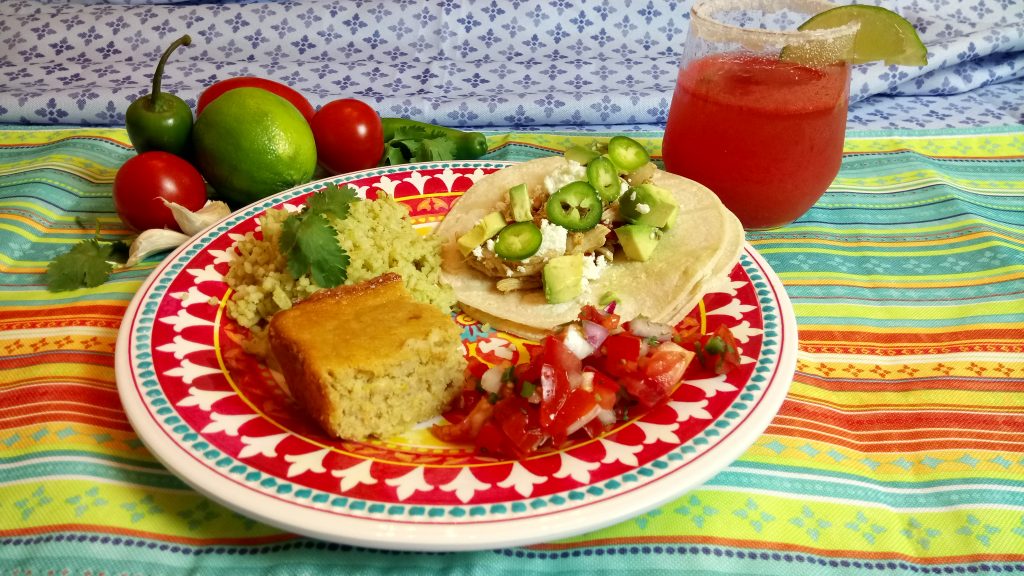 Just as I believe every person has a unique and valuable treasure to share with the world, so does each culture. One way a heritage can share its treasure with others is through its cuisine. I guess that's one thing I love about food is that it gives us a way to enjoy diverse perspectives and experience new possibilities.
Our own nation is the perfect example of this mixture of cultures, where our cuisine reflects a wide array of foods from all over the world.  And there's no better time to celebrate the authentic flavors of our southern neighbor than Cinco de Mayo.
By the way, Cinco de Mayo is NOT Mexico's 4th of July. No, their independence day comes on September 16th. In Mexico, Cinco de Mayo is a day to commemorate an unlikely victory, when a small number of valiant Mexican soldiers, against all odds, defeated a large and well-equipped French force at the town of Puebla. Over time, Cinco de Mayo has become an important holiday for Mexican-Americans to celebrate their heritage. And now, it's the perfect excuse for all of us to throw a fun, flavor-filled fiesta of our own.
For these recipes, I wanted to bring you authentic Mexican flavors, or at least as authentic as the Appalachian momma can offer. What most of us call "Mexican" is actually Tex-Mex, where Mexican dishes mingled with the ingredients and methods more common in the US. The Mexican cuisine itself is mainly a mixture of Mayan and indigenous foods combined with Spanish European dishes.
I chose dishes that were easy to prepare and I'll share some time-saving tips as well. Just read my comments and follow the links to create your own Mexican celebration, not just on May 5th, but any day of the year.
Tacos con Pollo
We're all familiar with tacos and these delicious chicken tacos are easy to make, especially when you pick up smoked or rotisserie chicken pre-cooked from your local grocery's deli. I also used a combination of canned diced tomatoes (fire-roasted garlic and tomatoes with green chilies) to add quick and easy flavor. A hearty splash of a bottled mojo marinade gave another easy flavor boost. The basic recipe is here.
In Mexico, they use soft corn tortillas for their tacos, instead of the U-shaped crunchy taco shell we eat here. They'll double up on them, too, and use Mexican cheeses like crumbled Queso Fresco, as opposed to our cheddar cheese. Other common condiments are crema Mexicana (sour cream), pico de gallo, slices of jalapenos or serrano chilies, and chunks of avocado.
Arroz con Lima y Cilantro
We're all familiar with 'Spanish' rice, the red/orange kind you get at local Mexican restaurants. There's nothing wrong with that, but realize the universe of Mexican rice dishes is way bigger than that one recipe. Here's a link to an example of rice infused with lime and cilantro. And there's plenty more authentic rice recipes to try here.
Pan de Elote
You might not think of cornbread as dessert, but maybe you will when I tell you this recipe calls for sweetened condensed milk! There are many versions of this classic dish, but I chose the one my informal food critics here at home liked the best. I change this recipe slightly from the link by mixing it all in a blender, adding the corn and maseca (corn flour used to make tortillas) at the end. A half recipe is perfect for an 8 inch square pan. Grease, flour and line the pan with parchment paper, unless you want to serve it straight from the pan. Click here for this unique dish.
Watermelon Agua Fresca
Such a refreshing drink and easy to make in a blender. (I bought pre-cut chunks of watermelon to make it even easier.) The fresh lime juice makes all the difference. I rubbed a lime wedge on the edge of the glass and dipped it in sugar to make it more festive. Make this one in advance so your watermelon mixture has time to chill and stir before serving as the juice will settle. Now you have the perfect way to recycle over-ripe soft watermelon that you would otherwise throw away! Find the recipe here.