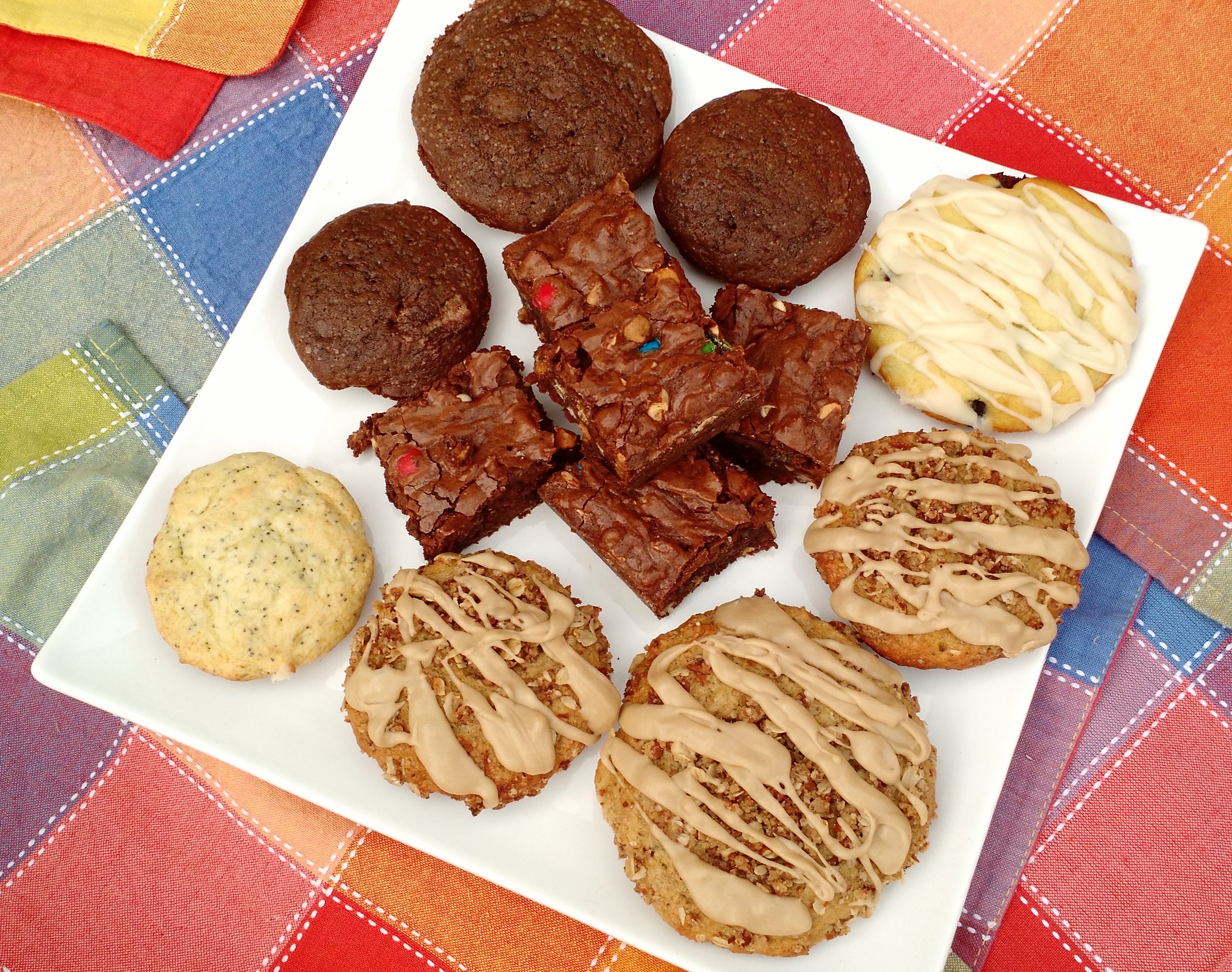 In honor of Father's Day, I thought the dads out there might need a little help in maintaining their manly physique, so I'm offering these delicious treats to give them a hand. (And you don't have to be a dad to enjoy them!)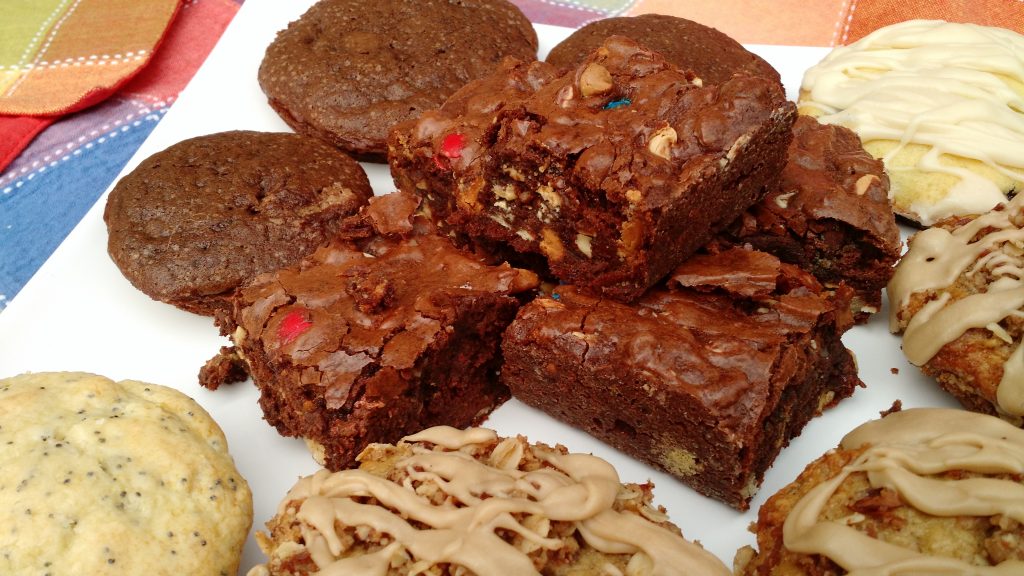 Dad Bod Brownies
We'll all heard of the latest catch phrase to describe the transformation that males go through as they leave their youth behind. It takes a lot of effort to achieve the perfect 'dad-bod' form and these loaded brownies will be the perfect way to make sure they stay that way.
Preheat oven to 350 degrees. Grease and flour a 9 X 13 pan. In a bowl, combine together:
1 cup unsalted butter, melted
3 cups white sugar
1 tablespoon vanilla extract
5 eggs
Stir the eggs in, but don't beat them vigorously. In another bowl, whisk together:
1 ¾ cups all-purpose flour
1 cup unsweetened cocoa powder
½ teaspoon salt
Add the dry ingredients to the wet ones, and right as the dry ingredients are about to disappear, add the following, all at once:
1 cup of mixed nuts, roughly chopped
½ cup semi-sweet chocolate chips
½ cup peanut butter chips
½ cup white chocolate chips
½ plain M & Ms
½ cup Butterfinger baking pieces
(Basically, you can add in pretty much whatever you think your favorite dad will enjoy!)
Once combined, spread the thick batter out into your pan and bake for 40 to 45 minutes, or until a toothpick inserted in the middle comes out clean. (Just bake a few extra minutes if the toothpick isn't clean, and check again.)
Let them cool completely before cutting into squares.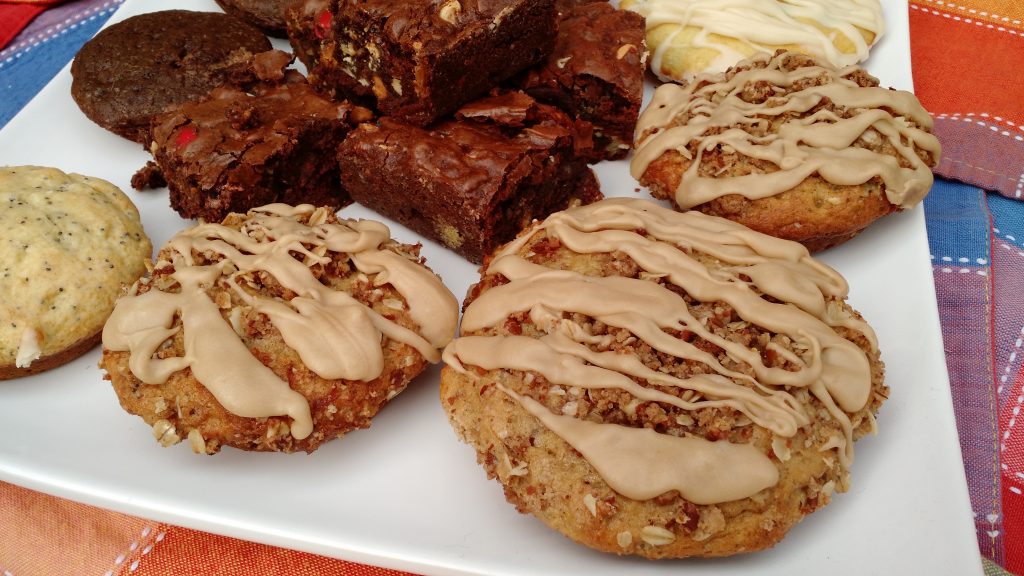 Manly Muffin Tops
Many people (not just dads) enjoy the top of the muffin best of all. And it's easy to bake just the tops and leave the muffin stump out of the picture all together. Special 'muffin top' pans make baking these a snap, but don't worry if you don't have one. You can use an ordinary cookie sheet to achieve a similar effect. Lining the sheet with parchment paper means no fears of them sticking and using a batter that is thick and stiffer helps keep a nice rounded shape.
Any muffin batter will work, but if the batter is thin, your muffin top will look more like a cookie. To convert any muffin batter to make well-shaped muffin tops, try replacing some or all the milk or liquid with greek-style plain yogurt, adding ¼ teaspoon of baking soda to your dry ingredients if your recipe uses only baking powder. (The acid in the yogurt will react nicely with the soda and help with lift.) I even used a prepared muffin mix to test out this idea for bakers who don't wish to start from scratch, and it worked just fine. A portion-controlled ice cream scoop (the kind called a disher with a trigger on the side) makes forming them simple. Don't try to flatten out the batter, as it will naturally spread during baking.
I created a special man-pleasing flavor combination I hope all the guys out there will enjoy, and to be honest, I really like this one, too. I guess we all could use some help with our muffin tops! 😊
Maple Pecan Muffin Tops with Bacon Streusel and Maple Syrup Glaze
(Thanks to the Joy of Cooking cookbook, where I found a good base batter to inspire this creation.)
Lightly spray with non-stick spray your muffin top pans, or prepare a cookie sheet with parchment paper or a silicon mat. Pre-heat your oven to 400 degrees.
This is a classic wet/dry recipe. Before we make the batter, we'll make the topping. That way your batter won't sit around with the leavening ingredients activated, waiting on you to prepare the topping.
Bacon Streusel Topping
In a bowl, stir together:
1/3 cup all-purpose flour
1/3 cup brown sugar
1/3 cup chopped pecans
1/3 cup real bacon bits (don't use the artificial ones!)
1/3 cup old fashioned oats
2 ½ tablespoons melted unsalted butter
½ teaspoon cinnamon
The mixture will be a bit crumbly. Set it to the side. Now, for the batter.
Maple Pecan Muffin Batter
In a large bowl, whisk together:
2 cups all-purpose flour
1/3 cup brown sugar
4 teaspoons baking powder
½ teaspoon salt
¼ teaspoon baking soda
½ teaspoon ground cinnamon
In a separate bowl, whisk together the wet ingredients:
1 large egg
3 ½ tablespoons melted unsalted butter (you can substitute vegetable oil)
1 teaspoon vanilla
1 teaspoon vanilla butter nut flavor
1 teaspoon maple flavoring
1/3 cup real maple syrup
1 cup plain greek yogurt (you can use any plain yogurt)
Mix the wet and dry ingredients together with a spoon or spatula, just until the dry ingredients almost disappear. Stir in, just until combined,
1 cup chopped pecans
By stirring as little as possible, you help keep your muffin top as tender as possible later. After you're done mixing, use an ice cream scoop or a large spoon to portion out your batter to your pan. If you're using a cookie sheet, leave several inches in between each one to give room for spreading. (You can make them any size you want, just be consistent so they all bake at the same rate.)
Take a generous amount of your streusel and put on top of each one. Large ones will need a few spoonfuls. Bake at 400 degrees for at least 10 minutes. The actual time will depend on your pan type (non-stick darker pans bake quicker) and the size of your muffin tops. (Small ones bake quicker.) The time to finish will be about half the time of the original muffin recipe, but keep an eye on them to see when the tops are dry and spring back to the touch.
Remove pans to cool for a few minutes before removing the muffin tops to a rack. Prepare the delicious glaze. (I use a small glass bowl or measuring cup, where I melt the butter and add the rest.)
Maple Syrup Glaze
Stir together:
3 tablespoons melted butter
3 tablespoons real maple syrup
½ teaspoon maple flavoring
1 teaspoon vanilla
1 ¼ cup powdered sugar
1 or 2 teaspoons of milk or cream to thin the glaze to the consistency you desire
Drizzle the glaze over the cooling muffin tops. Enjoy!