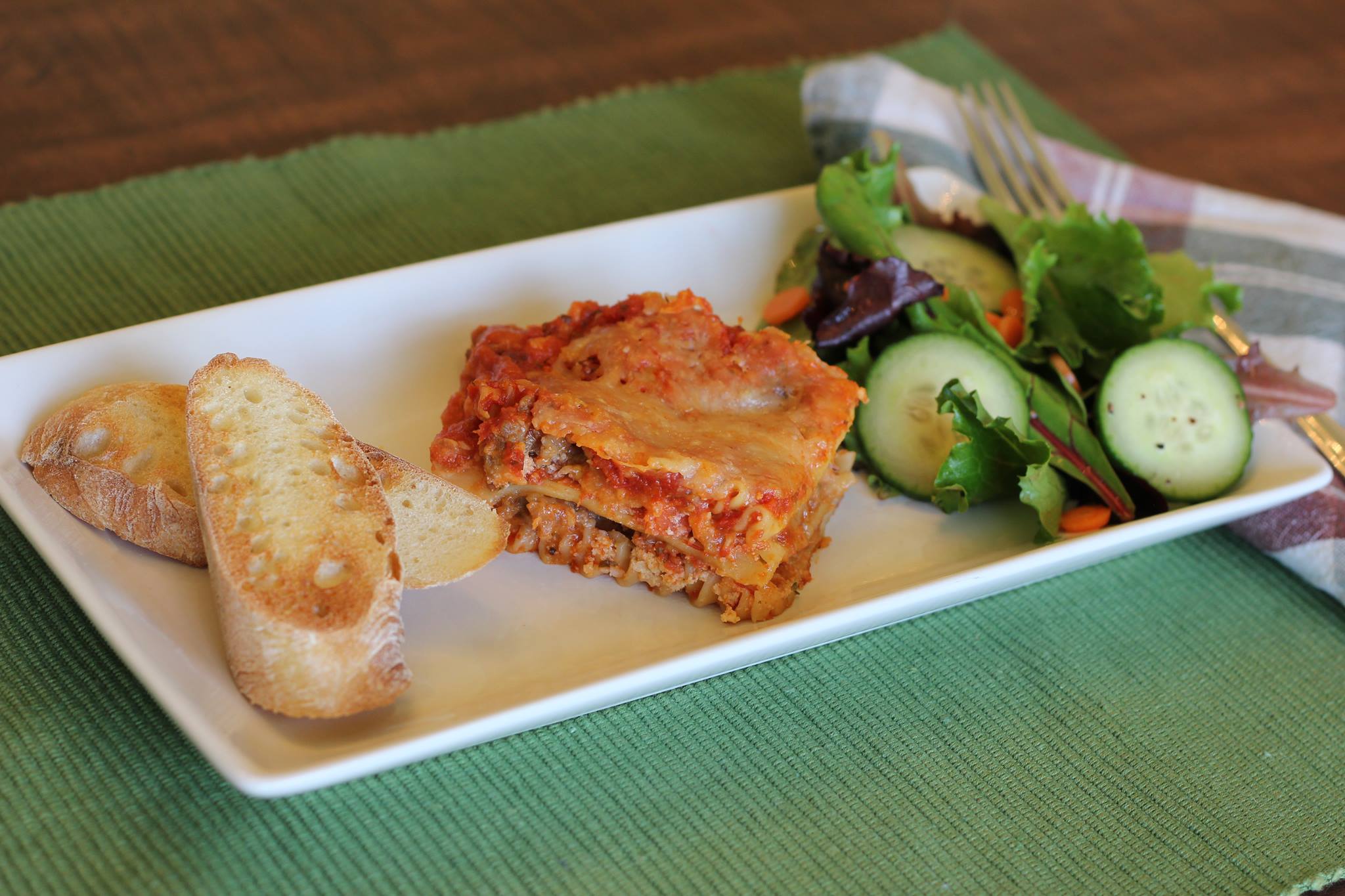 I love lasagna for so many reasons. It's delicious, of course: layers of pasta, filled with tasty sauce, rich cheese and seasoned meat…what's not to love? I also love it because it's not hard to make and is the perfect meal to give away when you want to bless someone with a homemade dinner. Lasagna is a convenient freezer meal as well and is a dish that's easy to customize with your family's favorite flavors and ingredients. Add a salad and some garlic bread and you have a complete meal.
Here's some tips on how I make mine. First, the ingredients: I use no-boil noodles to save time and hassle. There are many kinds to choose from, some flat, some with ridges, some that look like traditional noodles. To be honest, even traditional noodles can be used without boiling them first, by using extra sauce. To boost the flavor, I use ground sausage instead of hamburger meat. Any sausage you like will work, be it Italian, country sausage, sweet, mild or hot. Just make sure you brown your meat until the pink is cooked out. You could even use a mixture of meats, or add a little pepperoni for extra zest. For a filling, I use a ricotta cheese mixture. Some people use cottage cheese, but I like the smoother texture of ricotta. For a 15 oz container, I add one beaten egg, 2 teaspoons of Italian seasoning, and a half cup of Parmesan cheese, plus a pinch of salt. You can add fresh basil and parsley if you like as well, or even fennel seeds. For the sauce, I keep it simple and use my favorite jarred spaghetti sauce. I prefer a chunky garden variety. For the cheese, I like mozzarella, or a convenient Italian cheese blend in a bag. Use as much or as little cheese as you like.
These flavors fit well with my family, but feel free to include veggies like eggplant, zucchini, mushroom, peppers, etc. Just remember these will all give off moisture as they cook, so adjust your tomato sauce accordingly. Speaking of tomato sauce, you can certainly make your own or just use a simple marinara.   The possibilities go on and on!
When I make lasgana, it's not much more work to make two instead of one. You can freeze the other unbaked, or bake it and freeze it later, or give it away. When giving it away, I will use a disposable pan so my friend doesn't have to return a dish to me and I write the directions with a permanent marker on the foil top, so my friend knows how to bake it.
You can make lasagna of any size. A 9 X 13 pan is a common size, but I'll use smaller sizes when giving it away if the family is small. My assembly instructions are good for any size. I would use a normal sized jar of sauce at least for one 9 X 13 lasagna, a pound of cheese, 1 pound of sausage, and a 15 oz tub of ricotta cheese, along with a cup or so of Parmesan cheese.
To assemble, spray your dish with non-stick spray. Spread a small amount of sauce on the bottom and layer with noodles. The no-boil noodles will expand as they bake, but if your pan is large you might need to break off some noodles to fit in on one end, or layer the end noodles the other direction to cover the pan. Now the layering begins. There are no rules here. You can put everything on every layer, or have some that leave out the meat, others that leave out the cheese. It's up to you. And you can go as high as you want to go. I would do at least 3 layers of noodles as a minimum.
I like to put the ricotta right on top of the noodles to make it easier to spread, then layer on meat, sauce, cheese, more sauce, then another layer of noodles and repeat. When I reach the last layer of noodles, I top with sauce and more cheese, including a good sprinkle of Parmesan. Top the pan with foil, which you can spray with non-stick spray on the bottom side if you wish, and bake at 350 degrees until bubbly in the middle. For a 9 X 13 that could take 45  to 50 minutes. Remove the foil and let bake 10 minutes more, or until lightly brown on top. Let lasagna sit for 15 minutes before cutting, to let it firm up a bit, or you'll end up with a big sloppy mess on your plate.
Lasagna is actually better the next day, as all the flavors will have melded together. If you have any leftovers, you can certainly freeze them for another day.