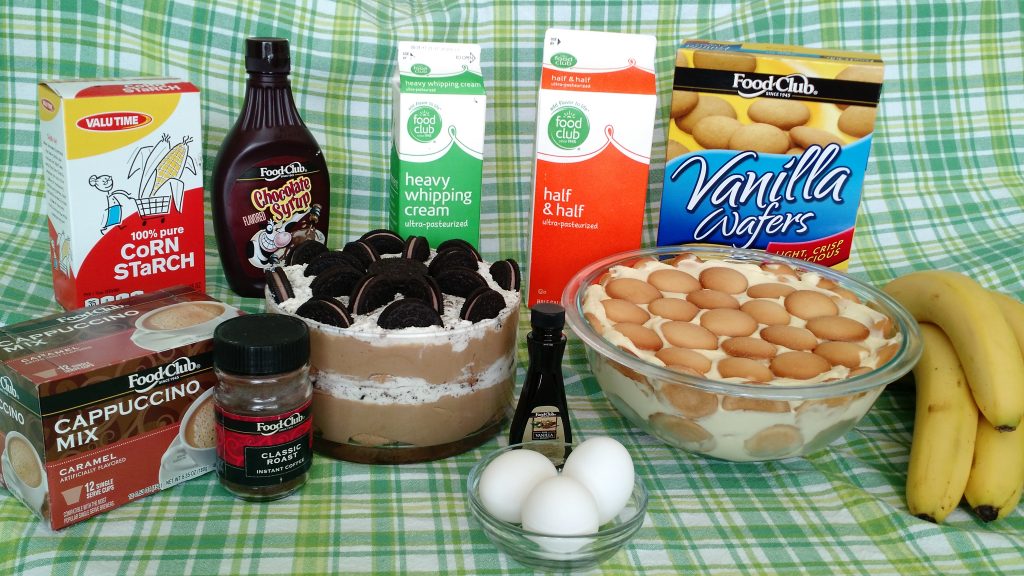 When I first discovered this delicious, creamy concoction, I had no idea I would find so many ways to use. Basically, French custard is vanilla pastry cream with sweetened whipped cream folded into it. As is, French custard is like an airy pudding and lovely when used to fill cakes, cupcakes, crepes, cream puffs, etc. In its original vanilla form, it pairs wonderfully with many flavors, including lemon, raspberry, caramel, chocolate, etc.
But you can play with the base flavor to create many tasty variations. My favorite is putting instant coffee or espresso powder into the heated half and half, usually a spoonful per recipe, but you can do more or less to taste. I've even made a pumpkin spice version.
I always use French Custard when I make Banana Pudding. But I also created a creamy Mocha Cappuccino Trifle, using the coffee French Custard.
Here's the basic French Custard Recipe:
In a glass measuring cup, bring to a boil:
1 cup half and half (you can use milk if you like)
While your liquid is heating, beat in a mixer bowl, until light and fluffy:
3 large egg yolks
1/3 cup sugar
pinch of salt
Then add and mix in:
2 tablespoons cornstarch
Put your mixer on low and take your hot half and half and SLOWLY pour it down the side, continuing to mix until well combined. We need to add vanilla. I prefer adding:
2 teaspoons vanilla bean paste
But if you only have vanilla extract, we'll add it at the end, so we don't cook it which can lessen its flavor. Take the mixture and put it in a microwave safe bowl. Cook on high in the microwave for one minute. Stop and stir. Cook it another minute and stop and stir. Continue to cook for 30 seconds at a time or less, until the mixture thickens. Your microwave's power will determine how long this takes.
If you cook it too long and it seems super stiff, you can use a whisk and smooth it out. Once thickened, stir until smooth and add 2 teaspoons of vanilla extract if you didn't use vanilla bean paste.
This pastry cream needs to cool completely before you can add the whipped cream. If you are in a hurry, the quickest way is with an ice bath. Get two metal bowls of the same size. Put ice in one and your pastry cream in the other. Set the pastry cream bowl on top of the ice bowl and stir the cream.
Another way is to put plastic wrap over the bowl, pressing it onto the surface of the warm cream, and put it in the refrigerator a few hours to chill. Putting the wrap on the surface will keep a 'skin' from forming on top of the cream.
To turn the pastry cream into French Custard, make sure your custard is chilled and whisked smooth. In a mixer bowl, whip until stiff:
¾ cup heavy cream
2 tablespoons powdered sugar
1 teaspoon vanilla extract
Fold the whipped cream into the pastry cream until nice and smooth. Keep the finished custard cold until ready to use. Remember that the cake, cupcakes, etc., you use it in will need to be kept cold until ready to serve.
Variations:
Espresso French Custard: Add as much instant espresso or instant coffee into your hot half and half to taste…at least a teaspoon, but more if you like it strong.
Chocolate French Custard: Stir in 3 ounces of melted bittersweet or semi-sweet chocolate into the pastry cream before adding the whipping cream.
More ideas: You can fold in other ingredients, such as ganache or caramel. You can add spice to the custard. Try a splash of your favorite liqueur.
Now, let's put the French Custard to good use!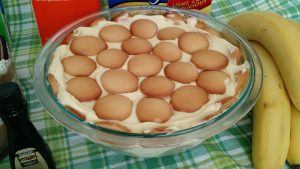 Banana Pudding
If you want to make a large banana pudding, you may need to double or triple the French Custard recipe. To make a 2.5 quart container, I tripled it. Once the French Custard is made, I line my bowl with vanilla wafers then spread out a layer of custard, top with fresh sliced bananas, put a little more custard, top with vanilla wafers, and repeat the process until I reach the top. I always end with a layer of vanilla wafers on the top. You can also add layers of sweetened whipped cream. Let it sit overnight in the refrigerator so the wafers get soft.

Mocha Cappuccino Trifle
This one is a cousin to Tiramisu, but easier. I still use ladyfinger cookies, often found in your grocer's international aisle. I dip them briefly in coffee (I used a single serve cappuccino cup) before layering them on the bottom of my container. I drizzle on some chocolate syrup and lay down a layer of Coffee or Espresso French Custard, followed by a layer of Cookies and Cream (sweetened whipped cream with crushed Oreo Mocha Cookies folded in.) Another layer of coffee-dipped ladyfingers comes next and the process is repeated until you reach the top. I finished with my Cookies and Cream filling and half cookies on the top. Let it chill for several hours before serving to give time for the ladyfingers to absorb the flavors.